Calfie looking cute, Kirsty looking slightly frazzled
6th August 2019
... Comments
---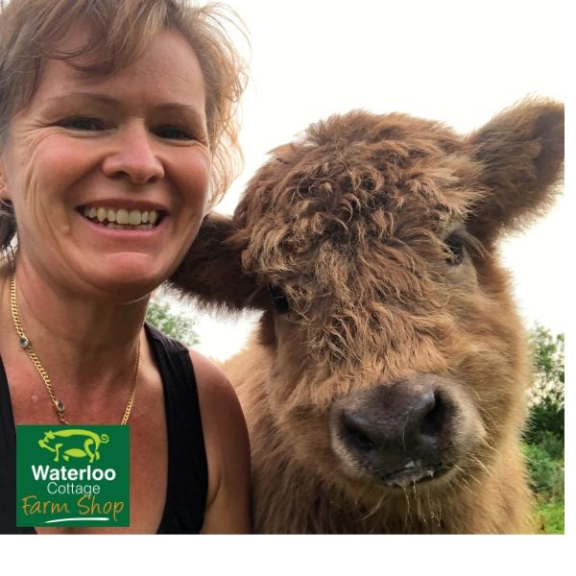 It is 5 years ago since we last had to hand rear a calf. That was Jessie, lovely though she is now we have learnt lessons on how close to become with a beast that will soon be very powerful and have huge horns. Her friendly behaviour can be a danger at times.
Calfie could not stand for the first 48 hours, his mother tried to get him up, but, failed. We put him in the garden and fed him 3 times a day and gave him regular physio..... within 2 weeks we  had found a young heifer with a new born calf to keep him company. After a week in the garden keeping the grass down they have been in the field beside the Canvas Cafe since.
Calfie continues with his feeds 3 times a day, but, has normal cattle life  the rest of the time, learning the pecking order of a fold of Highlanders. His rumen (one of the four chambers of a ruminant's stomach) is developing nicely. We take walks around the field checking out cow or calf pats. A well developed rumen means that he will be digesting his grass. The level of microbes in his rumen need to be kept below a temperature of 30 degrees to allow them to survive, so, his milk is checked for its temperature.
Our cattle are all pasture fed, which means no grain in their diet. This gives the meat better nutritional value for us, lower cholesterol and a better balance of Omega 3 and 6 for our livers.
There is also great research that is showing a positive effect on our environment when cattle are pasture fed. The detrimental effect on the environment comes from the heavy use of fossil fuels for planting and harvesting grain for industrialised cattle farming.
Like to know more? Click on the link below:
https://tinyurl.com/What-is-pasture-fed
Kirsty Clarke
Waterloo Cottage Farm, Gt Oxendon, Market Harborough