It seems the word 'Virtual' has taken a new pride of  place these last few months, being used to describe online events to temporarily replace an actual physical event.
At least that was my understanding of the word, but on questioning my definition, I decided to look it up:-
"almost or nearly as described, but not completely or according to strict definition"
Umm.. that's about as clear as most of the government's recent Covid-19 guidelines, but my point is that the word 'virtual' has come into its own during the lockdown as a haven for online activities, thanks to the power of technology, and new found skills such as learning 'ZOOM'!
We've all missed our 'normal' way of life to some degree, but on the plus side, we've changed our habits to accommodate the situation and many of us have enjoyed them. So much so, that we may even adopt some of them as our new 'normal' going forward.
So what have we been doing?
During lockdown we were having 'virtual dinner parties', 'virtual meetings', 'virtual tours' (zoos, museums, theme parks), 'virtual sports events' etc.. I'm sure you can fill in your own blanks as there have been some amazing innovative ideas out there, but one in particular that emerged was the 'virtual quiz'.
Now if you are a keen competitive quizzer, you may have been missing your regular weekly/monthly fix down the local pub or club. You may now have settled for testing your wits against contestants on popular TV shows in the comfort of your own home. Or you may have dusted off the cobwebs of old board games you've just got down from the loft, and gone into battle with your family members.
But many pub landlords have twigged that online (virtual) pub quizzes by 'zoom' (computer software where you can login to see (optional) and talk with your fellow logins) will likely keep their customers happy, particularly the regulars who can still have a virtual pint and 'see' their fellow contestants, though they'll have to get it themselves!  Of course the pub's revenue may suffer in the short term, but not the long term, and the good will/feel good factor will kick in. And with some gentle persuasion, contestants can be encouraged to make a donation to a nominated charity.
==========================================
Stop Press: Thursday 22nd October 2020:
Virtual Quiz hosted by DUNCAN MURRAY WINES at 7.30pm
See Details here: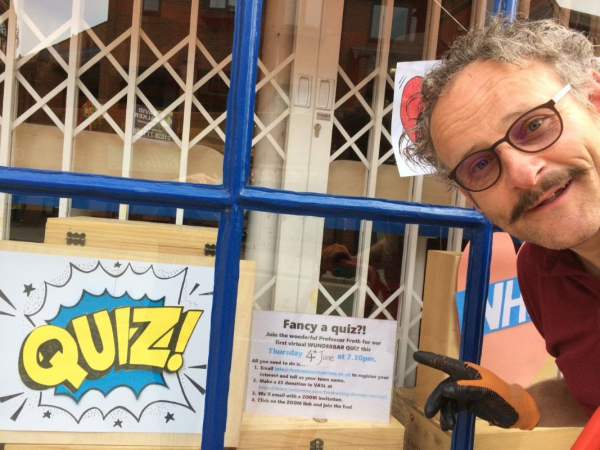 ==========================================
OK, a virtual quiz may not be quite as exciting for some as the' real thing' with the pub/club/bar atmosphere and most will look forward to returning to the normal format (where it won't be as easy for some people to cheat!), but it will fill a void in the short term and keep you in touch with your friends.
Of course you might discover that your usual audience of x tables of 4 has suddenly become 'hundreds' depending on the organiser's power of marketing, but that could be a good thing if raising money for charity or a specific cause/event.
The fact remains that many of us like a good quiz, whether to show off our superior knowledge (or not!), to exercise our brain, or to just be social and have a good time with friends or family.
And if the present situation means we must be 'virtual', then so be it!
So why not search for 'virtual' or 'online' quizzes in your area - the only time you'll be allowed to use 'Google' - and join a team!