Let it snow, Let it snow. Great for all of us?
5th December 2012
... Comments
---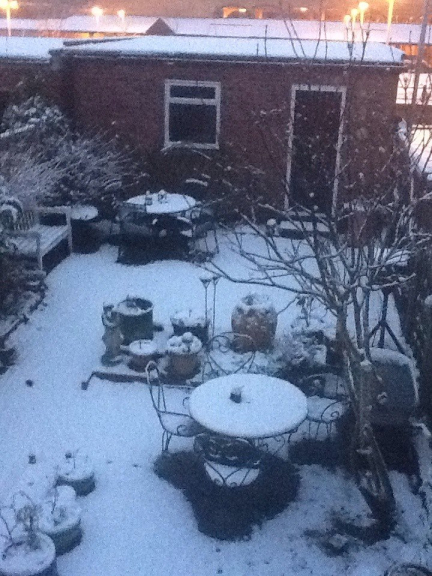 For most of us, the snow this morning bought a smile to our faces. Everything looks sparkly and white. In a garden beset by weeds and overgrown shrubs like mine, I suddenly have a white canvas that looks pretty.
The rush-hour extended for many people, as roads and transport became difficult, time-consuming and annoying.
And that's it for most of us, pretty and sometimes a bit annoying. Snow.
Time to spare a thought for those who have to be out in it. We have our share of homeless people in what is otherwise an affluent town by most standards. Many people do great work in the town, giving time and money to help those who find themselves homeless or in housing need and we're all pleased to get back inside our warm homes at the end of the day. Find out more about the North Herts Sanctuary here: http://www.northhertssanctuary.org.uk/
That's just the start of the list of people who have to be out, no matter what the weather. Our emergency services help us when we need them (I'm a testament to that, four weeks after my own emergency) and they're not going to stay in the warm when we need them outside. Did you know that there's a team of voluntary Community First Responders in Hitchin who support the ambulance crews, even in the snow? Find out about their work and see if you could join the team here: http://www.eastamb.nhs.uk/community-first-responders.htm
Market traders seem to have central heating under their skin and most of them will be out whenever they need to be, despite the snow and freezing temperatures. We're proud of our market in Hitchin, but how many people use it regularly? Find out when you can by clicking here: http://www.hitchinmarkets.co.uk/
All of this comes on the day when someone might get in at the eleventh hour (before 11pm tonight) with a £64milion winning Euromillions ticket bought somewhere around Hitchin and Stevenage. There's a campaign to try to persuade Camelot to spend the money locally, but it's unlikely to succeed. Read about it here: http://www.thecomet.net/news/64m_hitchin_or_stevenage_euromillions_ticket_campaign_to_keep_the_money_local_1_1731802
Let's just hope that wherever the money ends up, it's spent wisely.
And meanwhile, enjoy the snow and spare a thought for those who HAVE to be out in it.