Hitchin's Paul Arnold launches Acousticards app
6th November 2012
... Comments
---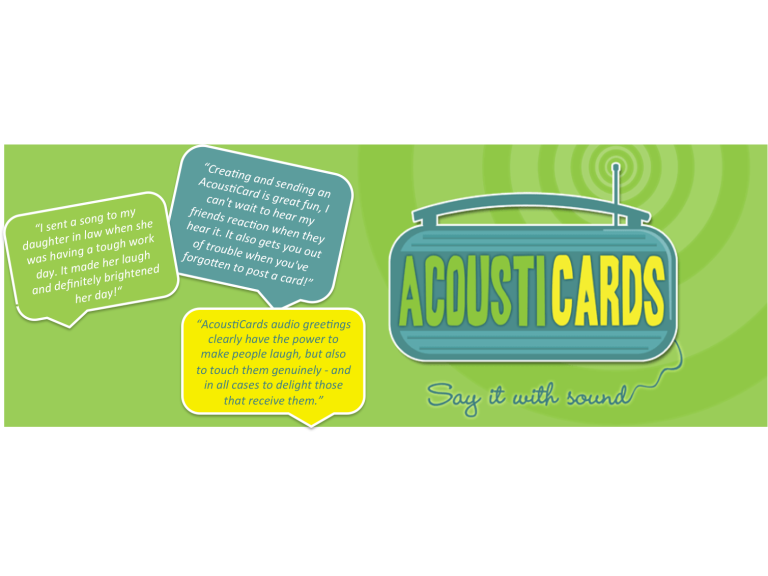 Local musician and award-winning producer Paul Arnold creates AcoustiCards app.
Now available as a free iPhone and iPad app, AcoustiCards gives users the ability to produce and send personalised musical greetings cards. Costing less than a standard card, people will love to receive something so personal.
After nearly a year of investment and development, Hitchin's Paul Arnold has launched AcoustiCards as an iPhone and iPad app. His background in audio production, music and interactive projects helped Paul create the means for people to send a personalised song as a gift or greeting.
He said: "From the initial idea of taking requests for songs by email, which proved too expensive, to doing versions of 'Happy Birthday', which produced rights issues, the idea gradually focused down into an iPhone app which could seamlessly mix in options to songs."
Paul Arnold is a radio producer and engineer with several Sony awards and BBC Innovation awards to his name. He makes trails and items for BBC Radio 4 and 4 extra and his previous work has included Chain Gang, the bite-sized radio drama told by its listeners, and 'Easter Diaries', which recently won a Jerusalem award at BAFTA.
"Now people are starting to play with the AcoustiCards app and it's a great feeling to know that they're getting something totally personal to send friends and family," said Paul.
To try out the app for yourself, go to www.acousticards.com