Hitchin Olympic Games Maker in Games Maker Choir
17th December 2012
... Comments
---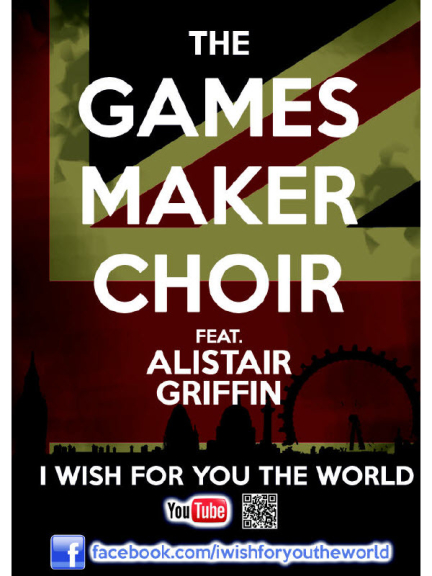 A choir of Games Makers formed during the London 2012 Olympic Games is making a bid for the Christmas No.1 single this holiday season. The all-volunteer group, who performed at the Olympic Park during the Games, have teamed up with singer songwriter Alistair Griffin to record a new song entitled 'I Wish For You The World'.
WENDY NEWSUM WHO LIVES IN HITCHIN WAS A GAMES MAKER AND IS A MEMBER OF THIS CHOIR.
You can view the making of the video here 
The track had its worldwide exclusive radio airplay on The Chris Evans Breakfast Show on Friday 7th December The group, who recently signed to Decca, the label behind last year's Christmas No. 1, have the backing of gold medal winning Olympians and Paralympians and now London Mayor Boris Johnson has thrown his support behind the cause saying, "This song is a great tribute to those feelings of pride, inspiration and goodwill that spread throughout London and the rest of the country during the 2012 Games. I wish everyone involved the best of luck in their efforts in keeping the Olympic spirit alive."
The song, which featured in BBC Sports Personality of the Year's coverage, has also garnered support from Sports Personality nominee and gold medal winning rower Katherine Grainger who has pledged her support for the Games Makers and has even offered to provide vocals on the track. "What a great song. It captures all the excitement and joy and feelings of friendship and partnership that were the spirit of the Games. It helps not only to maintain all the enthusiasm but also to build on it, so that the legacy really can be strong. Sing on! "
MP and former Olympics Minister Dame Tessa Jowell has been pivotal in getting the venture off the ground and praised the volunteers saying 'So much is owed to the Games Makers for the success of London 2012. Their drive, commitment and energy remain so inspiring and, through this great single, they are helping to keep alive the Olympic spirit that swept across the country'. The song has become a genuine contender for Christmas No.1, 'I Wish For You The World' looks set to round off an incredible year for Britain and the volunteers.
Alistair Griffin writes another great sporting anthem…..inspired Griffin, who recently penned the sound track to Sky Sports flagship Formula 1 coverage and numerous other sporting anthems, said 'I wrote the song after being so affected by the Olympics to reflect the amazing year we've had as a nation and when I heard the Games Makers choir I knew they had to sing it. They're the people who made the Games and this is the people's song"