Hitchin Band prove they are Top Brass!
19th March 2014
... Comments
---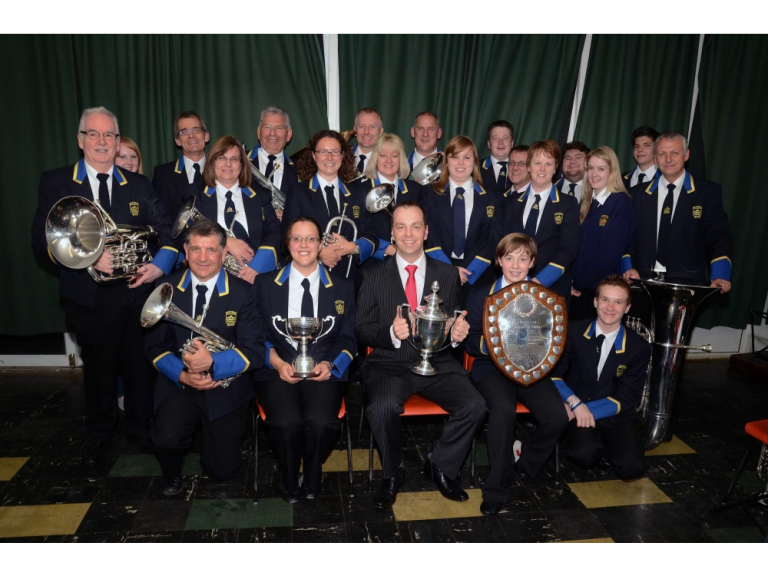 There was much excitement last weekend at The Gordon Craig Theatre in Stevenage as brass bands from all over the London and South East gathered to compete in the regional finals of the National Brass Band Championships of Great Britain. If you've ever watched the film 'Brassed Off' you'll know that rival brass bands meet to play and compete against one another to find out who is the best. Rather like the football there's a league table of brass bands starting at the bottom with Fourth section, through to the First and from there up to the elite bands in the Championship section.
To compete, each section is given a different piece of test music, and the bands have a couple of months to practice and rehearse it. Then all across the country the bands gather to compete in their regions championships. As well as the trophies and prizes on offer, if they win, there's a chance of promotion to the next section up and of course if the performance is not well received a chance of relegation too. Strangely the judges never watch the bands perform - they sit in a tented off area in the auditorium so that they can listen to the bands 'blind' and remain impartial.
Hitchin Band have gone from strength to strength in recent years under the direction of the their conductor Craig Patterson; winning the Third Section Championships in March 2012 at Stevenage, and the National Championships six months later. This gave them an automatic promotion to the second section. Then in March last year they beat seventeen other brass bands in the second section as well as attaining awards for the best trombone section and the best musical director.
So after several months of grueling rehearsals the band were feeling very excited to enter Sundays contest in Stevenage. There were 18 bands competing in the second section all playing - Chaucer's Tunes' composed by Michael Ball. The competition was tough and this time Fulham Brass won first place. But Hitchin's playing still shone through, and sixth place was enough to secure the band promotion to the First Division. This means the band can relax a little as they won't need to rehearse another competition test piece until next January when they are officially promoted to become a First Section band.
Instead they will go on to rehearse a programme of popular music that they will play at a variety of concerts at local venues. The band has a full diary of events and concerts lined up throughout the year and there are plans to record another CD full of popular brass band tunes. For more details of this and where to hear the band go to the Hitchin Band website at http://www.hitchinband.co.uk . For details of how to book the full band or a smaller ensemble for an event contact Tracy Gales on 077822 11926 or secretary@hitchinband.co.uk