Bags of goodwill
17th September 2015
... Comments
---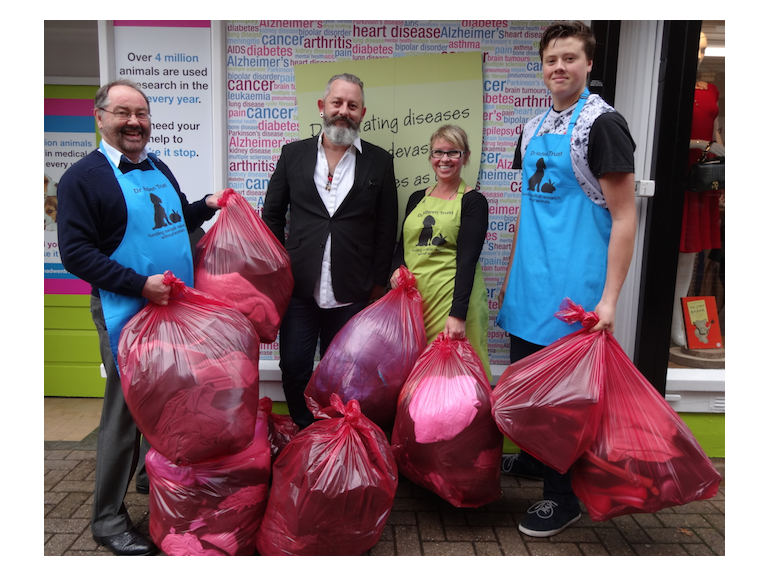 Felix Camfield-Walker, owner of Farley's Hair Emporium, got a bit more than he bargained for when he answered the Dr Hadwen Trust's call which came in response to his appeal for donations of clothing for the Calais and Kos refugee camps.
DHT last month opened their first charity shop at 16 Churchyard in Hitchin. They fund medical research without the use of animals, and in their shop they only resell goods that do not contain animal products.
Dr Kay Miller, DHT's Group Head of Operations said: "We have received a huge amount of donated goods for our shop, for which we are very grateful. Although we've asked only for non-animal derived products, inevitably in amongst the donations there has been some leather and wool items.
"It is our policy to always pass these donations on to other causes or charities that we support. When we heard about Felix's call to action on behalf of the refugees in Calais and Kos, we thought that on this occasion we would pass on the goods we are unable to sell to Felix.
"We are also working with North Herts Sanctuary in Hitchin who provide shelter and targeted support to people in need, so that we can ensure that any menswear donated in the future that we are unable to resell in our shop, will go on to support those in need in our local community."
Felix said: "It is really good of the DHT to be so helpful. This is a great boost to the effort to support the refugees. It would be great if other Hitchin businesses could participate."
Felix will be collecting humanitarian aid at The Priory School on Sunday 4 October between 9am and 1pm. Donations of camping gear, waterproofs, warm clothes and tins of food are particularly welcome.