Ripley Traders Take The First Steps Towards Reviving The Town
10th June 2013
... Comments
---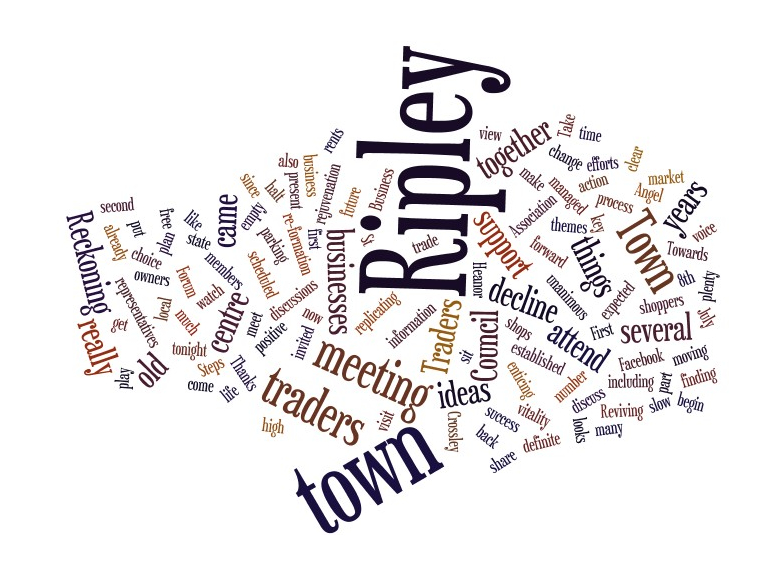 For the first time in many years, over 20 local businesses came together tonight to discuss what they can do to play their part in bringing back life and vitality to Ripley.
It's been several years since the old Ripley Business Forum dissolved, and traders in the town have struggled since then to find their voice. They have had no choice but to sit and watch the slow decline in their trade, but now it looks like things are about to change.
Thanks to the efforts of Ripley Reckoning and Ripley Town Council, the traders came together to meet, share ideas and make a definite plan for the future of our town. There were representatives from all of the old established businesses in the town centre, including Paul from The Butcher's Shop, Tony from England Barker Jewellers, David from Clarkes and Murray from U-Duit on Church Street, plus many other business owners such as Lynn from Scented Willow and Chris from Crest of the Wave.  There were also several members of Ripley Town Council present and it was really clear how much they support any action by the traders to get things moving in the town.
It was a really positive meeting, with plenty of ideas being put forward. As expected, a number of key themes did come out of the discussions, including
free parking
empty shops
high rents
the state of the market
enticing shoppers back into the town centre
There was unanimous support for the re-formation of a Traders Association for the town, and for finding out more about how Heanor has managed to halt the decline and begin the process of rejuvenation with a view to replicating this success!
A second meeting has already been scheduled for 8th July, 5.30 at the Angel on Crossley St.  Any business owners from Ripley that didn't or couldn't attend this meeting are invited to attend.
 For more information, visit the Ripley Reckoning Facebook Page or email Becky Deans