Aldercar Angels Triumph….almost!
12th March 2013
... Comments
---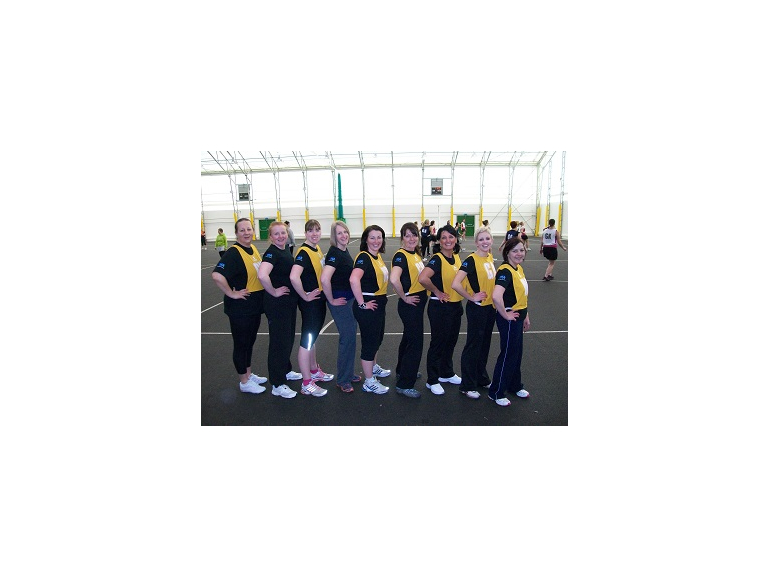 Netball, if you can remember, is that game you last played at school with varying degrees of success. Usually it was on cold Tuesday afternoons in the middle of winter when the school pipes were frozen and running around was deemed to keep you warm.
Well Aldercar has its own ladies netball group, the Aldercar Angels, made up from local ladies who are mostly of a certain age and able to remember those school days quite well.  Fortunately things have changed a little since those wintery afternoons.  The emphasis is on fun, socialising and if you get a little fitter into the bargain then even better.  The Aldercar group meet at Aldercar Community Language College on Thursday evenings to play in the indoor sports hall.
The group have been meeting since September.  Having played in a friendly tournament before Christmas, and proudly finishing last it was with renewed trepidation that the Aldercar Angels entered their second netball tournament on Saturday 2nd February.   In the early hours of the morning 10 of our group braved the winter sunshine venturing to Soar Valley College for a 'Back to Netball' East Midlands tournament.   Two cars and a few missed turns later we arrived to register our intent, although we still weren't clear on this ourselves.  However, decked out in new matching shirts with packed lunches in hand we looked like we knew what we were doing.
Signed in and warmed up we found we were on first against the Cougars!  Cougars versus Angels, we put in a valiant effort losing only by a small margin. Okay five goals, but no-one was counting.  Down but not out, we came up against Loughborough who looked like they'd never even left netball let alone gone back to it!  We managed a draw in the next couple of games and actually went on to win a couple too!  Things were looking good.
All in all we took a few tumbles and scored a few goals all whilst having a fun day out.  I hear you ask 'but what of the award ceremony?'  Those Cougars went on to win the tournament overall.  And the Angels…?  Well we didn't come last!
New members are always welcome, email Tom at tnelson@aclc.co.uk for details.  Alternatively turn up at Aldercar Language College sports hall 7pm until 8pm on Thursday evenings.  Age range currently 14 – 50 something…..
Follow us on Facebook at B2N - Aldercar & Eastwood