Veterinary Surgery and Council combat dog mess
25th November 2015
... Comments
---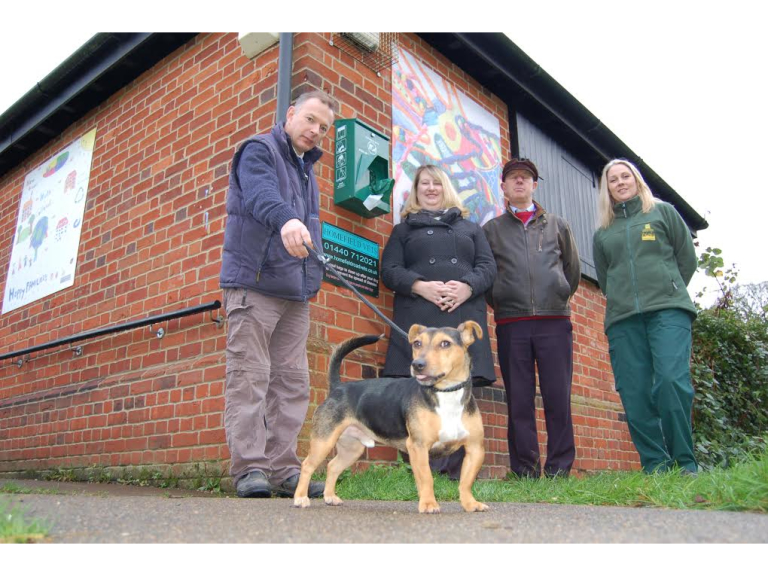 Homefield Road Veterinary Surgery has paid for bag dispensers and bags that will be available to dog walkers in East Town Park as a way of encouraging them to clean up after their animal.
Park rangers employed by St Edmundsbury Borough Council will refill the dispenser when required.
Richard Frost, a veterinary surgeon at Homefield Road Veterinary Surgery said: "Many of our customers at the practice visit East Town Park with their pets, as I do, and we see this initiative as an important opportunity to raise awareness of the health issues associated with dog mess and to encourage dog walkers to act responsibly. There is no excuse for not cleaning up after your dog even if you have forgotten a bag and they are now freely available at the park."
Cllr Joanna Rayner, Cabinet Member for Leisure and Culture at St Edmundsbury, said: "I am delighted that the council is able to work in partnership with this veterinary surgery. Our parks are a huge asset to the community, are enjoyed by people of all ages, and initiatives like this are very welcome.
"The vast majority of dog walkers are responsible and pick up after their animal. Sadly there are a selfish minority that don't seem to be aware or to care that their refusal to pick up could result in serious illness or blindness.
"While hopefully initiatives such as this will alleviate the problem, we are also encouraging people to report information to help us catch and fine these irresponsible dog walkers."
If you have information about an irresponsible dog walker contact the council by emailing customer.services@westsuffolk.gov.ukor phone 01284 763233.