Catch up on the latest results from Haverhill Golf Club
29th February 2016
... Comments
---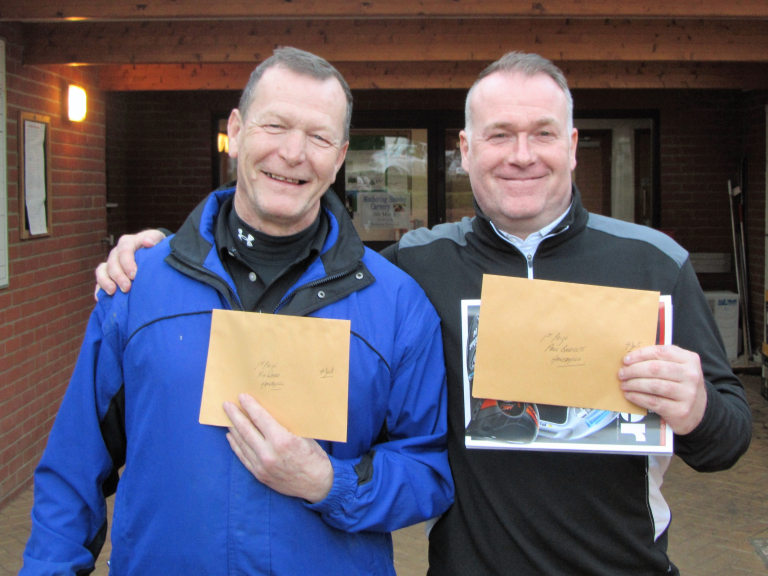 The Men's IFF Challenge was played on Wednesday 24th February. An impressive field of 58 took part and the scoring was very close across all divisions, with the overall winner having to be decided on count back. Trevor Broomfield just had the edge with a score of 21pts on the back 9, and he reduced his handicap by a shot to 13. The full results were: Division One 1st place Andy Fish 39pts, 2nd place Lyndon Brown 36pts, 3rd place Dave Pipe 35pts on count back. Division Two 1st place Trevor Broomfield 39pts, 2nd place David Seal 37pts, 3rd place Frank Robertson 36pts. Division Three: 1st place Phil Jones 39pts, 2nd place Ian Andrews 38pts, 3rd place Howard Wood 33pts on count back.
The Ladies competed in the LGU Coronation Foursomes on Saturday 27th February. There were 6 pairs taking part and the ladies commented the golf course was in great shape, however the weather, though chilly was kind. The winners were Mandy Williamson & Elaine Ward with a commendable score of 38pts just edging out the runners up, Pat Kennedy & Sheila Price, who returned a score of 37pts. Haverhill's Lady Captain, Val Shipp, announced the winners and presented Elaine & Mandy each with a lovely bunch of flowers. The winners hope to qualify through the next round of this national event.
Haverhill Men competed in their Medal on Sunday 28th February. The overall winner was Peter Young with 42pts and he has reduced his handicap by 2 shots to 22. The full results were Division One: 1st place Harvey Bavester 35pts, 2nd place Chris Iron 34pts, 3rd place Andy Gage 32pts on count back. Division Two: 1st place Ben Stanley 39pts, 2nd place David Roope 37pts, 3rd place David Seal 36pts on count back. Division Three: 1st place Peter Young 42pts, 2nd place Chris Gavin 35pts, 3rd place Michael Fowler 34pts on count back.

The Suffolk Winter Alliance moved to Diss for the next meeting on Sunday 28th February. In all 76 players took part including just one Professional. They enjoyed a course where the greens were quite quick and true, but there was very little run on the fairways. The lone Professional was Dean Fairweather of Bury Driving Range who carded a round of 81. The Four Ball Better Ball Competition was won by the Haverhill pairing of Kim Ward & Paul Bartlett with an impressive 43pts.  The runners up on count back (decided over the last 3 holes) were Tom Martin & Ben Sayers  (Felixstowe Ferry) with 41pts, just edging out Roger Toone & Nick Forsyth  (Stoke-by-Nayland) with 41pts.