Thurlow Pupil Celebrates Competition Success at Castle Manor Academy
14th October 2012
... Comments
---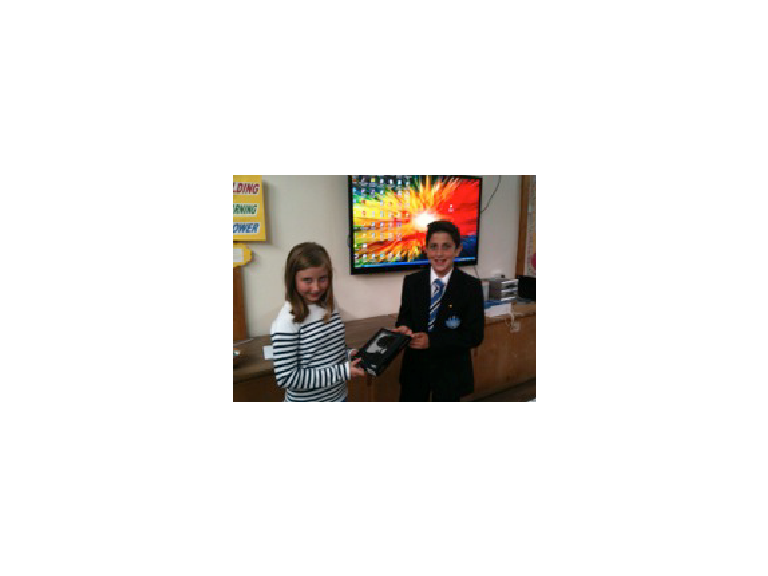 Holly Carlton, a Year 6 pupil from Thurlow Primary School, had a pleasant surprise in her Friday assembly last week when she was presented with a brand new Kindle by a Castle Manor Academy student. The Kindle was presented by Tayfun Yaygir as a prize for a competition that Holly
entered when she visited Castle Manor Academy's Open Evening. Visitors to the Open Evening collected stickers as they moved around the academy campus and took part in various activities. Holly's card was chosen at random following the event and she had managed to visit every area
of the campus!
 After winning the prize Holly was pleased, but it did leave her with a small problem "I really wanted a Kindle and have actually put one on my Christmas list. I'll have to think of something else now!". Tayfun Yagir was a pupil at Thurlow Primary School last year, before joining Castle Manor
Academy in September. He commented on the move to secondary school "I was a little worried about the move to secondary school, but I'm really enjoying myself at Castle Manor. Most of my friends went elsewhere, but I'm really pleased with my choice. I've made lots of friends, taken
part in lots of activities during and after school and feel really supported by the teachers, even if some of the work is quite challenging!"
Jason André, Marketing & Communications Manager for The Castle Partnership Academy Trust, was pleased with the outcome "Holly seems really happy with the prize. There were lots of students from Thurlow that entered, so they were all very excited when we were introduced, but Holly came out to be the winner. We really hope that those who visited us enjoyed the Open
Evening and now have enough information to make an informed choice regarding their secondary school."
If you missed the open evening and would like to arrange a personal tour during the academy day please contact Jason André by email at jandre@castlepartnership.org.uk or telephone the
academy on 01440 705 501.
Contact details:
For more information please contact Jason André, Marketing and Communications Manager on
01440 705 501 ext 227, 07899 806 693 or jandre@castlepartnership.org.uk