The latest results from Haverhill Golf Club
19th August 2015
... Comments
---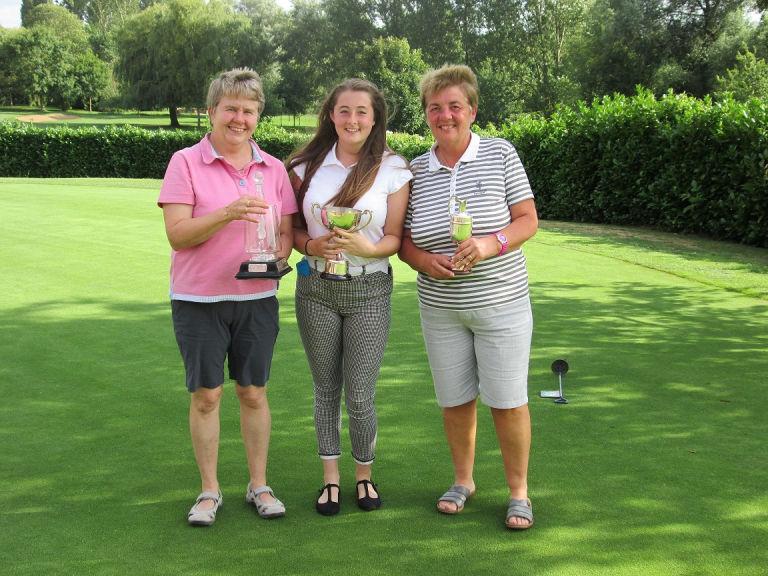 Haverhill Juniors competed in the Peter Bowers Trophy on Tuesday 11th August. The winner of the medal competition (receiving 2 courtesy shots) was Alice Iron with 83-14-69. In 2nd place was her brother James Iron with 82-12-70 and in 3rd place Josh Hulyer with 85-15-70. In the stableford competition, Harry Proctor was the winner with 36pts and Ewan Groves the runner up with 33pts.
On Thursday 13th August, Haverhill hosted its Mixed Open. In all 86 competitors took part representing 22 clubs from across the region. Unfortunately the weather took a turn for the worse during the afternoon, but despite the heavy rain showers some excellent scores were returned. The results were as follows: Ladies nearest the pin on 8th, May Burn from Brampton, Men's nearest the pin on 16th David Minton from Saffron Walden. The best front 9 was won by May Burn and John Topping from Brampton with a score of 24pts and the best back 9 was won by Susan and Jonathan Soar from Costessey Park with a score of 22pts. The overall competition winners were Lynda and David Minton from Saffron Walden with 44pts, in 2nd place were Alison and Dick Taylor from Stowmarket with 43pts and in 3rd place Corinne & Dominic Parmentier from Saffron Walden with 42pts. Afterwards Lady Captain Sheila Price gave the prize presentation and thanked the team of volunteers from Haverhill including the starters on 1st and 9th tees, James Lay,  John and Chris Grainger, and gave special thanks to retired Club Manager Doug Renyard and his wife Stella, who assisted with the competition administration and raffle, to make it another successful event for the Golf Club.
The Ladies Club Championship and Pam Ratford Trophy were contested on Saturday  15th August. In all 7 ladies and 2 junior girls took part in the 36 hole medal Club Championship and 12 ladies took part in the 18 hole Pam Ratford Trophy, also medal format. After the morning round the two junior girls were leading the field. Defending her title, Alice Iron established a comfortable lead by 4 shots over her nearest rival, Fiona Stokes. In the handicap competition Linda Alexander  carded a nett 70, with Alice Iron and Mary Sail both in close pursuit with nett 71. In the afternoon  Alice produced a fabulous round of golf giving a combined total of 83+79=162. She secured victory in convincing style to retain the Ladies Club Championship for 2015, and reduced her handicap by a shot to 11 in the process. In 2nd place was Linda Alexander with two consistent rounds of golf, 90+89=179, just edging out 3rd place Fiona Stokes on count back with 87+92=179. In 4th place was Mary Sail with 90+98=188. Linda Alexander was awarded the Handicap Trophy following her rounds of 70+69=139 and her handicap was cut to 19. Although Alice Iron had a nett total of 138, under the rules of the championship competition she was not eligible to win both prizes, having already won the scratch event. Gerry Wheatley finished in 2nd place with 75+74=149 and Mary Sail finished in 3rd place with 71+79=150. Lady Captain Sheila Price gave the prize presentation for the Club Championship and congratulated everyone who took part. Sheila went onto announce the result of the Pam Ratford Trophy and  commented 'it is encouraging to see  three Parklands Members who joined as 7 day members back in April taking part in the Pam Ratford Trophy and doing so well'.  One of the former Parklands Members, Anne Reed, claimed the victory with a superb nett 68, four shots ahead of 2nd place Elaine Ward, also a former Parklands Member, with a nett 72. In 3rd place was Pat Kennedy with a nett 79 on count back. As a result of Anne's win, her handicap was reduced under the exceptional score reduction by 5 shots to 25.
Haverhill competed in the Semi Finals of the Hambro against Gorleston on Sunday 16th August at Ufford Park. Following the morning round, the Haverhill team were 2 holes down having faced a tough challenge from Gorleston. The results of the morning matches were (Haverhill Team first): Gerry Scott & Dave Perrett halved with James Chadd & Danny Perring; Dave Spittle & Jack Bligh lost to Chris Duffy & Tommy Hunt 2 down; Chris Vince & Jack Warwick beat Josh Manser and Stuart Mortimer 2 up; Andy Fish and Paul Bartlett lost to Danny Western and Jamie Bool 2 down. The Haverhill Team fought back valiantly during the afternoon matches;  Jack Bligh and Dave Spittle got off to a flying start to swing the advantage back in favour of Haverhill. The results were: Bligh and Spittle beat Chadd and Perring 3 up; Scott and Perrett beat Duffy and Hunt 1 up; Fish and Bartlett beat Manser and Mortimer 2 up; Vince and Warwick lost to Western and Bool 2 down. The jubilant Haverhill Team claimed overall victory by just 2 holes and will go onto meet Newton Green in the Final of the Hambro on Sunday 30th August; the venue is to be confirmed.