Run a free market stall
16th March 2015
... Comments
---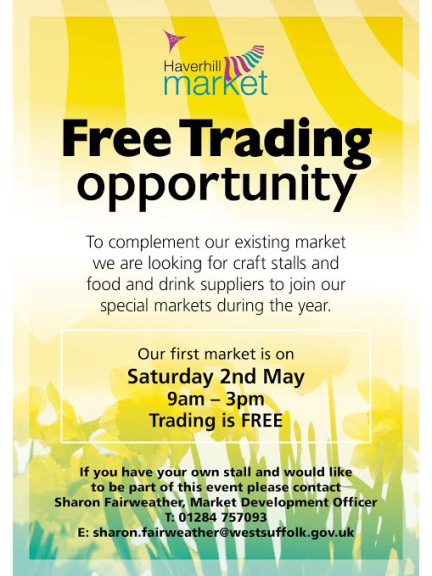 Have you got a craft or a business idea hidden inside of you? Have you ever considered running your own market stall?
Now is the time to give it a try with Forest Heath District Council and St Edmundsbury Borough Council offering two chances to trade for free.
The two councils are looking to grow the markets and are running two free market days for would-be traders in Haverhill and Newmarket.
The first of these takes place on 4 April in Newmarket, while there will be a chance to try your hand running a stall on the Haverhill market on 2 May.
Sharon Fairweather, market development officer for the two West Suffolk councils, said: "It may be that you already have a craft, hobby or a creative  small business  – here is the chance to test your goods on the market at no extra cost. We are looking for crafts, food, and drink stalls that can add to the mix on our wonderful markets.
"For those interested in taking it that step further and running a new stall, we also have special start up deals."
The 4 April market in Newmarket will also include an Easter treat. Children visiting Newmarket market on the day will receive a free Cadbury's crème egg with every purchase – while stocks last.
Anybody interested in runnin a stall on either or both dates, or enquiring about running a new regulat stall, should contact Sharon Fairweather.