Latest Results from Haverhill Golf Club
1st September 2015
... Comments
---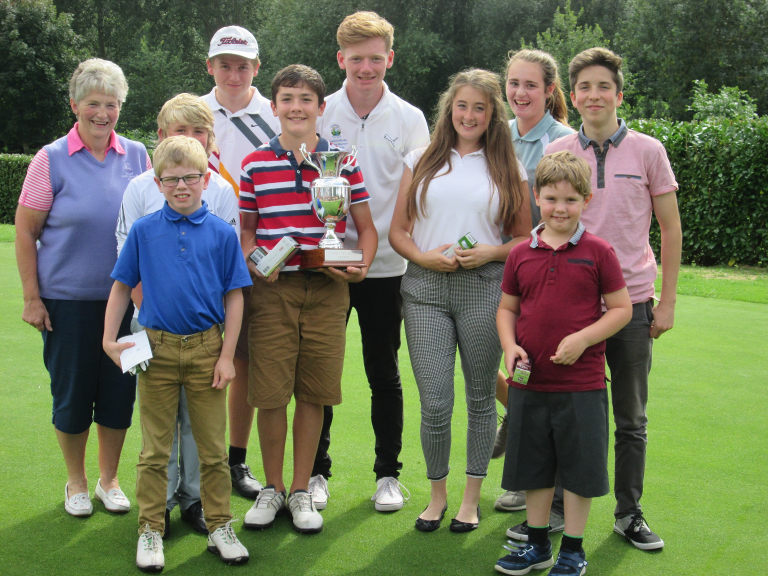 A Junior skills challenge evening was arranged by Haverhill Head Professional Paul Wilby assisted by Junior Organiser, Doreen Darbey and members of the Junior Committee on Monday 17th August. A series of short game tests with different scoring zones were set up with more points awarded for getting closer to the 'target' hole.Winning the team event were Alice Iron (Captain), Matthew Russell and Finlay Rose with 405pts. In 2nd place were Josh Hulyer (Captain), James Iron and Alfie West with 250pts and in 3rd place were Tom Turner (Captain), Ewan Groves and Harry Proctor with 170pts. The best individual score was 170pts by Ewan Groves.
Haverhill juniors recently hosted a buddy day where five junior members invited their friends along for a golfing experience which included foot-golf on a specially designed short course set out on the practice ground. The session also included golf coaching and on course participation. The day was free to all youngsters and was organised by Head Professional Paul Wilby and Junior Organiser Doreen Darbey. The winners of the foot-golf were Ewan and Stuart Groves with 48 kicks over 18 holes. The on course winners, tied on 27pts over 6 holes, were James Iron and buddy Oliver Jay and Ewan Groves with buddy brother Stuart Groves. The best buddy putting total of 10 putts over the 6 holes went to Stuart Groves, finishing off a successful day and he is now joining as a Junior member at Haverhill Golf Club.
The  next Major competition for the Ladies Section, the Lady Captain's Cup was contested on Sunday 23rd August. Haverhill Junior Fiona Stokes was the winner with an excellent round of 81-14-67, trimming her handicap by a shot to 13. The runner up was Linda Alexander with 89-19-70 on count back and in 3rd place was Jackie Condon with 81-11-70.
Haverhill Juniors competed in their Junior Foursomes match on Tuesday 25th August. The winners were Josh Hulyer and James Iron with a nett 74 and the runners up were Tom Turner and Harry Proctor with a nett 79.
Haverhill Ladies competed in their Midweek Stableford on Wednesday 26th August. Likewise the competition was curtailed due to torrential rain and therefore played over 9 holes. Jackie Condon was the winner with a score of 20pts, reducing her handicap by a shot to 10. In 2nd place was Ann Thompson with 18pts on count back and in 3rd place Jenni Bradnam also with 18pts.
Haverhill Junior Boys' Open was held on  Wednesday 26th August. In total 16 Juniors from across the County took part. The format of the event was medal, played off white tees with prizes awarded for the best scratch and handicap scores. Unfortunately due to the torrential rain (a usual month's worth of rain fell in just 2 hours), the competition had to be shortened to a 9 hole event. In the scratch competition, Lewis Whiting from Haverhill Golf Club carded a very respectable 1 over par gross 37, despite the weather conditions, to claim the overall victory. In second place was Harvey Watts with a gross score of 40, representing Newton Green and in 3rd place Joshua Hulyer  of Haverhill with a gross 43, on count back. Haverhill completed a clean sweep in the handicap competition; Joshua Hulyer just had the edge to win the with a nett 36 on count back, from 2nd place Lewis Whiting with 36pts and 3rd place Tom Turner also with 36pts. Winning nearest the pin on both the par 3 2nd and 8th holes was Freddie Leonard from West Suffolk Golf Centre and the longest drive was won by Lewis Whiting.