Keep your cash for the shops with festive free parking
8th December 2015
... Comments
---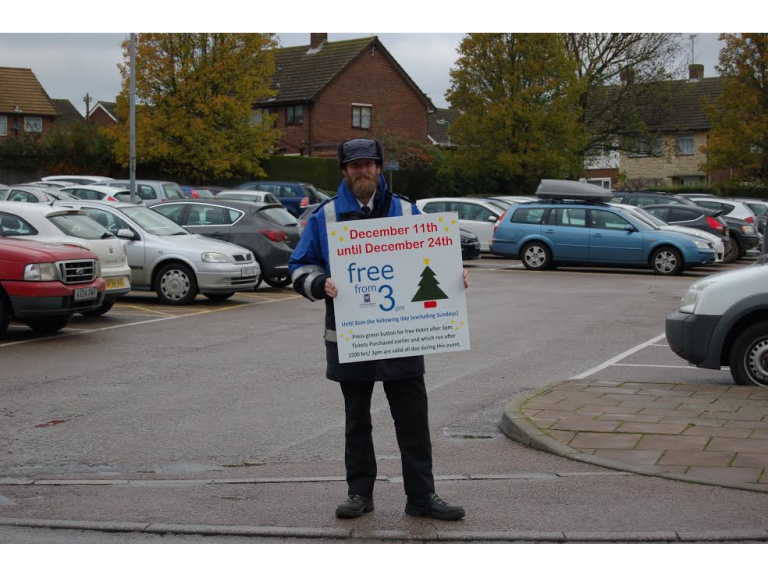 Shoppers are being asked to back traders in Haverhill town centre with the incentive of free car parking in the run up to Christmas.
St Edmundsbury Borough Council has announced that parking in all of its Haverhill car parks will be made "Free from 3pm" every day from 11 December through to Christmas.
It follows a successful pilot scheme of "Free from 3" parking during the two weeks leading up to Christmas last year.
Cllr John Griffiths, Leader of St Edmundsbury Borough Council said: "Christmas is the busiest time of the year for retailers and we are hoping that our residents in Haverhill, and from the surrounding area, will enjoy the town, and show some festive support to our shops and market traders. We are therefore extending our "Free from 3" offer from the usual Fridays to include every day in the run up to Christmas from 11 December. So whether you are buying gifts, stocking up on food and drink, or visiting the many things Haverhill has to offer do take advantage of our "Free from 3" parking offer."
The "Free from 3" Christmas scheme was introduced last year following discussions with the Haverhill Chamber of Commerce.
Chamber Chairman Paul Donno said: "I am delighted that "Free from 3" parking is being extended to include every day from next Friday (11) through to Christmas.
"St Edmundsbury is once again showing it support to town traders during this important time of the year. It is my hope that the people of Haverhill and the surrounding villages will get behind the scheme, make the most of the shops, businesses and market stalls that we have in this great town, and put their cash in the tills so that we can all enjoy a very merry Christmas."
The "Free from 3" offer will apply to the Ehringshausen Way, Lower Down Slade, Town Hall, Leisure Centre, and The Meadows car parks.