Haverhill Rovers vs Brantham Athletic
1st December 2015
... Comments
---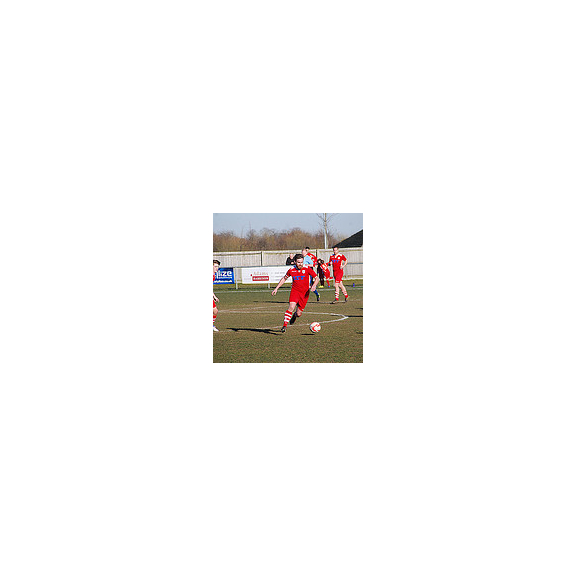 Haverhill Rovers 1 Brantham Athletic 0
In blustery conditions the game looked fairly even in the opening stages as both teams shared possession but with both defences looking solid neither keeper was really tested until a Rovers free-kick was delivered into the box by Shinn that was met by a powerful Martyn Farrant header that bought a great save out of Brantham keeper Paddi Hawkins, who did well to tip the ball over the bar from point-blank range.
At the other end Rovers keeper Alex Archer also had to be alert when he did well to save a Jordan Heath shot down to his right as the game continued to be well contested by both teams.  Rovers started to get the upper hand as they dominated midfield and it was not long before they then created further good chances as Ryan Weaver, who was causing problems for the visitors defence, shot just wide and Luke Haines bought a comfortable save out of Hawkins.
With half time approaching the game was then tuned on its head when a heavy challenge on Blake Kicks from Sean Gunn left the Rovers player needing attention and the ref showing a red card to the Brantham player as the tackle was deemed to be dangerous.
The second half saw Rovers playing against the wind with the extra man and this encouraged them to play some good possession football.  With the extra man they were able to play progressive football through the defence and midfield but they came up against a very stubborn Brantham defence that sat deep and looked to counter with the wind behind them.  Rovers continued to create a number of half chances as Weaver again caused problems and bought another good save out of Hawkins whilst Kicks also came close when he shot just wide of the mark.
Brantham worked overtime defensively and it looked like their back to the wall performance was going to see them get something out of the game.  But Rovers have been building a reputation for working hard to the end as they have scored a number of late winners in games this season and so it turned out in this game.  The impressive Riki Baker picked the ball up on the edge of the Brantham box and hit a powerful shot into the bottom corner to give Hawkins no chance as Rovers won their fourth game in a row whilst also keeping another impressive clean sheet.
TEAM: Archer, Moody, Kemp, Shinn, Farrant, Wilderspin, Newnes (Hunt 64), Baker, Weaver, Kicks, Haines (Alleyne 74)
Unused subs: Stevenson, Gardner, Jebb