Haverhill Rovers Thank Sponsors
7th April 2015
... Comments
---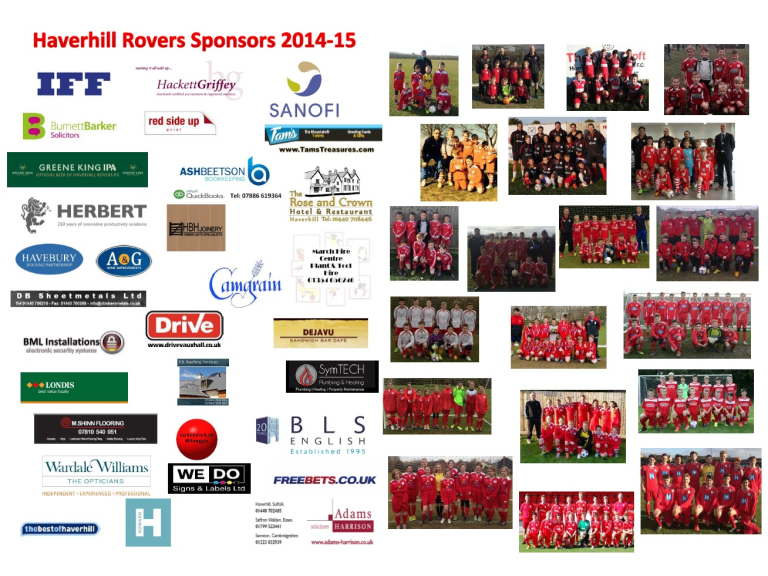 Haverhill Rovers is set to host Felixstowe and Walton United in their Thurlow Nunn League match on Tuesday 14 April and is using this penultimate home match of this season to take the opportunity to thank all the sponsors who have been involved with the whole FA Chartered Community Club from U6s through to the Vets this year.  Each company or individual has been invited to attend the match ahead of the game and enjoy some hospitality with the home and opposition Committees and the Match Officials and to stay on after the match and meet the First Team players and Manager in the bar. 
Chairman, Ali Shulver, says "Financial support is vital to the smooth running of the Community Club in the provision of football for everyone in Haverhill be they aged 5 or 50, male or female, able bodied or disabled, we have opportunities for all to take part in 'the beautiful game' during the season.  From teams from U7s through to Vets or 'turn up and play', to EJA teams for more advanced players that lead into the U18s and the First Team.  All of which have been on show this season and is set to grow next year.  Plans are coming together to almost double our girls sides and add more teams to our boys, to increase the number of EJA teams and to introduce two more adult teams to allow as many players as possible to continue to take part in the game."
He goes on, "Without the help and support of our sponsors this would be incredible difficult, if not impossible, to do and to enable us to invite them to the Club for a First Team match we hope will show how much we appreciate them.  It will give us the opportunity to explain what has been achieved with their assistance this season and where we are looking to continue to build.  We are extremely grateful that they have been on this journey with us and we hope they continue to want to enjoy the ride."
There will be new teams looking for help next season so if there are any local businesses, groups or individuals who would like to join Haverhill Rovers moving forwards and where they, as a Community Club, can help your business grow, then please get in touch with the Chairman, Ali Shulver, on 01440 702137 to discuss the options.