Haverhill Golf Club raise £1400 for St Nicholas Hospice Care
7th October 2015
... Comments
---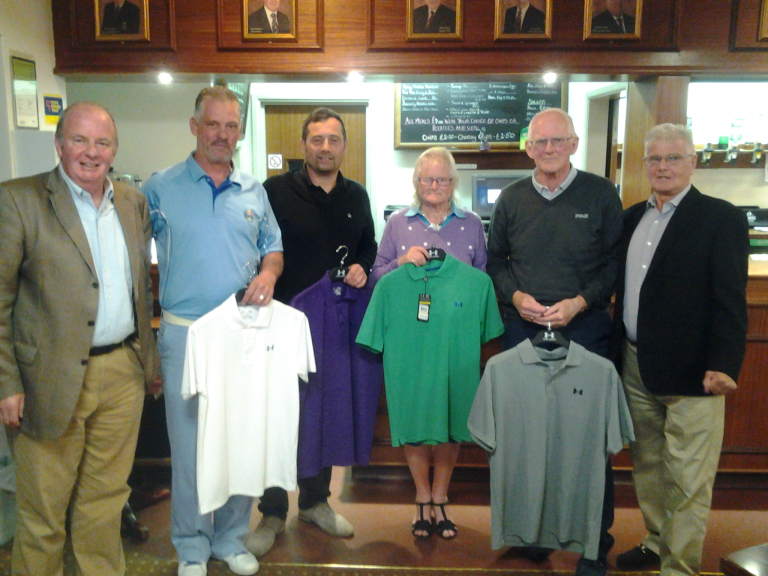 On Wednesday 30th September  Haverhill Golf Club hosted the Suffolk Ladies County Golf Association Division One Meeting, for ladies with handicaps from scratch to 18. Fiona Edmond from Ipswich Golf Club, who plays off a handicap of 1, claimed the overall victory and Sybil Green Trophy with a gross 4 over par 75. The runner up was Abbie Symonds with a gross 76 (nett 72) and as Abbie is also from Ipswich, the Club only needed the addition of a nett 74 from Sarah Saggers to clinch the Inter Club Challenge Shield. In the handicap competition the results were 1st place:  Liz Laflin (Stowmarket) 77-5-72;   2nd place Sarah Saggers (Ipswich) 78–4-74;  3rd place Ann Graves (Woodbridge) 87-13-74. Event Organiser Di Spring commented "the course looked absolutely superb.  With enjoyment virtually guaranteed, only the interesting trees on Haverhill's attractive tract of countryside caused a little bother here and there, but a most pleasant atmosphere prevailed, aided by the Ladies' Captain who was hugely helpful as well as possessing a wonderful sense of humour which everyone appreciated.  The Chef provided a super carvery meal. We were all very grateful and the whole day went with a swing! "
Signpost Paints Cup
Liam Merritt was awarded the Signpost Paints Cup, Haverhill's summer match play tournament, which was played off scratch.  The overall result had to be decided following Liam's semi final match against last year's finalist Jack Bligh, as the other semi finalists were unable to arrange their match by the set deadline. Liam commented "the match was very competitive, it was tight on the front nine with birdies on most holes between us, then I seized the advantage at the start of the back nine and putted well - it was a great match against Jack and I enjoyed it very much." Liam went onto win 5&3 to claim the Signpost Paints Trophy. 
On Saturday 3rd October, Peter Bowers, a Past Captain of Haverhill Golf Club in 2007, hosted a fundraising golf day at Haverhill Golf Club. The event was held in memory of his wife Jan, who was also a member at the Golf Club and sadly passed away last year. The format of the competition was a Texas Scramble, with teams of 4, played off 1/10th of the combined handicaps. The winners were John Kennedy, Joe Davis, Ann Thompson and Doug Renyard with a score of 52.4. In 2nd place were Bob Spittle, Neil Franklin, Mary Sail and Jack Warwick with a score of 54.1 on count back and in 3rd place Andy Fish, Dale Mizon, Lyn Fish and Vaughan Mizon with a score of 54.1. After the prize giving there was a raffle and the funds raised on the day, combined with the proceeds of the Karaoke Night held that evening, totalled approximately £1400, which will be donated to St Nicholas Hospice. An official presentation to the Hospice will be made at a later date. Peter went onto thank everyone for taking part and for giving their support to the Charity; the success of the day was a very worthy tribute to his wonderful wife Jan, who is missed but very fondly remembered by all at Haverhill Golf Club.