Cherry Hinton Vets v Haverhill Rovers Vets
30th September 2015
... Comments
---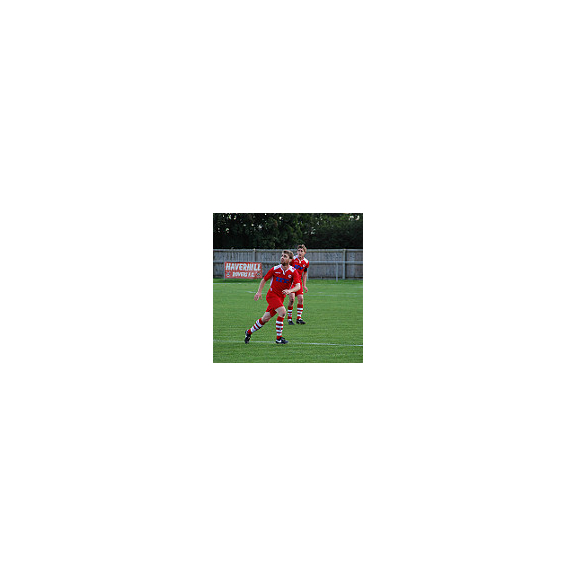 Cherry Hinton Vets 2 v Haverhill Rovers Vets 2
Clear blue skies and morning dew on the pitch was the perfect setting for Rovers first league game of the season.  A strong side fielded by the Gaffer Julian 'Chick' Hardy and Captained by Paul Iron originally from Mumbai.
A good start by both teams however the difference in the styles played was obvious, Rovers preferring a more European style of one touch passing against Hinton's long ball tactic which was being happily mopped up the Rovers back four of Sigler, Fitzpatrick, Fish and Anderson.  After 25 minutes the deadlock was broken, a fast sweeping corner taken by Kennedy cleared only to the edge of the 18 yard box landed at the feet of Iron, a strong pass to Steve Martin resulted in Rovers' first goal.
The remaining 15 minutes were controlled comfortably by Rovers, the midfield engine of Botten, Iron, Eley and Martin really showing their stature.  A good partnership was forming with Fisher and Kennedy and this nearly paid off with a header from Fisher which produced a fantastic save from the Hinton's Keeper.
Changes made at the second half saw Kennedy move into right midfield and Steve Griffin replacing Terry Eley.  Ten minutes passed and then some sublime one touch passing from Rovers' midfield and lightening quick pace from Kennedy saw him beat the offside trap with only the Keeper to beat, an unselfish side pass to Fisher wrong footed the Keeper and gave Fisher an open goal to slot home for Rovers' second.
Hinton began to push hard and with some substitutions began to cause some problems.  Some good passing seeing Hinton's striker with a shot on goal in the 6 yard box, a miss kick and the striker kicked the floor and fell over.  For reasons unknown, the referee awarded a penalty, (could have been the glare from Steve Griffins' ginger hair in the sunlight that affected his sight).  Penalty taken and the score line now at 2 - 1 to Rovers.
Substitutes made by Rovers saw Chick replacing Kennedy on right midfield and Terry Eley on to replace Steve Martin. Chick's impact on the turf was noticeable and the game swung like a pendulum.   Ten minutes remaining and another penalty awarded in favour of Hinton.  A thunderbolt shot by the Hinton's striker heading towards Eley's face at point blank distance saw Eley protect his rugged good looks from damage with his hands.  Ball placed on the spot and penalty taken saw cat like reflexes from Rovers' goalkeeper Dicko save the shot only for the rebound to land at the feet of a Hinton player.  A shame really as the Rovers' Keeper had commanded his area like Arnold Schwarzenegger in Predator.  Game finished 2-2, no bookings.