An update from Reach Community Projects
11th February 2016
... Comments
---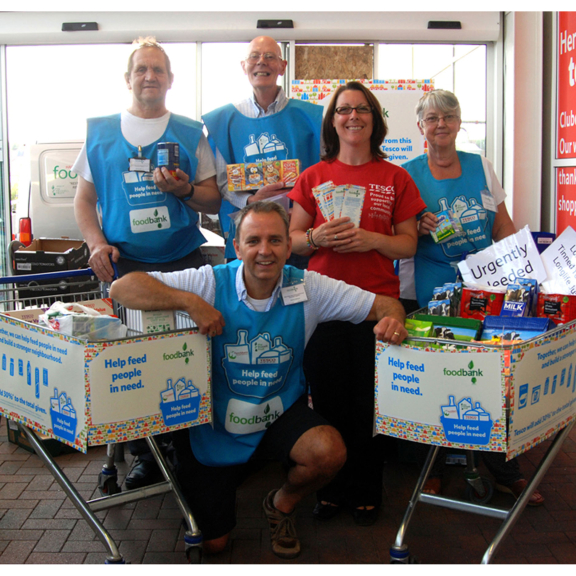 After all the excitement of the 10th anniversary it was time to get back to the 'day job' and straight into Harvest and as ever, schools and churches did not disappoint by donating just under 3 tonne of food, one school in Haverhill (Cangle) managed a whopping 339kg's, the most ever from a school!
The debt work proved to be a busy time too. Not only did we have to prepare and submit our application to the Financial Conduct Authority (FCA) for Limited Permission, we also helped a further 7 families / individuals including one family who were facing eviction with a massive rent arrear.
Christmas was an incredibly busy time and always tends to bring out the best in people and this year was no exception. We packed and wrapped 99 Christmas Hampers, we collected just under 2 tonne of food at the Tesco collection, we had 10 turkey joints given by Kedington Butchers, £800 for local families from the Craft Basket in town, nappies galore from the BP garage on Duddery Road and even a couple who instead of receiving wedding presents asked guests to donate 'Starter Pack' items to REACH – how amazing is that! (For all our news and pictures please visit our new website or follow us on Facebook – 'Reach Haverhill')
As well continuing to focus on the root issue of client's problems 2016 will be a time to build our capacity. In particular, we are planning to move towards cloud based IT which will enable us to be become more flexible and open up further opportunities for client engagement in 2017 – more details to follow in due course.
Project Activity:
Resource Centre; Since April this year, we have opened 195 new cases with a footfall of 1537. We currently have an active case load of 360 clients (ie. new/different clients that have accessed our services over the last 6 months). Reasons for the visit: 25% are for the Foodbank; 12% are for debt; 10% for computer use; 11% to use the phone; 8% for benefit issues with the remainder for all manner of issues.
REACH Money Advice; In the last 9 months we have had 32 new clients and processed 5 DRO's effectively wiping out their debts. 
Foodbank; 450 food boxes have been given out feeding 747 people (538 adults & 209 children). Benefit related issues remain the highest need for food at 42% followed by low income – 21% and debt at 12%. We received 11.8 tonnes of food and gave away 10.5 tonnes. 
Furniture Bank; Despite furniture shortages, the team have continued to collect 294 furniture items and delivered 353. 131 families/ individuals were helped from 113 donors. 
Acts 435; Since April £4,610 of client aid has been requested for 46 clients
Client Aid; In addition, we have also given out 31 grants to families/individuals totalling £2100 for help with gas & electricity as well as a further £122 to 10 clients for other emergency incidentals (emergency travel, tents, baby items etc)
Starter Packs; A total of 86 bedding and kitchenware kits have been provided with a total of 1533 items supplied.
One client said: "Thank you all for the help and support you have given me and my family, your kindness and generosity is greatly appreciated
Another said: "Thank you for all your help. I don't know what I would have done without you all."