All you need to know about Pumpkins in Haverhill this Halloween
21st October 2014
... Comments
---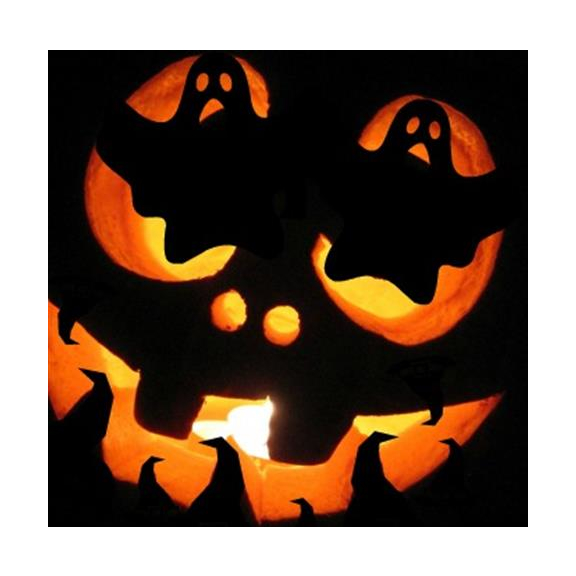 Halloween is just around the corner and pumpkins are 'flying off' (spooky!) supermarket shelves but do you really know which is the best size or shaped pumpkin to buy? Many of us don't think twice and due to this we aren't getting the most out of our pumpkins. Some are better for cooking whereas others would be better suited as Halloween decorations. But how do we know the difference?
What to look for
When buying pumpkins you need to know what to look for to ensure your Halloween greeting looks or tastes its very best. Pumpkins are available for purchase between September to December with October being their peak season. Whatever the use of your pumpkin might be, avoid buying bruised pumpkins with soft spots or those that are covered in bumps and cuts.  Look for pumpkins bright orange in colour and that still have their stem attached. If the stem has been removed, the insides could be dry and rotten. Jack O' Lantern pumpkins have stringy, watery flesh and are best reserved for Halloween decorations. If you are buying a pumpkin to bake some tasty Halloween treats look for smaller pumpkins as they usually have a rich sweet flavour. Bigger is not always better as smaller pumpkins also have a more tender and edible flesh.
Carving your Pumpkin
When carving your pumpkin start by using a sharp serrated knife to cut off the crown. Use a large serving spoon to scoop out the seeds, fibres and some of the flesh. If you wish to try out the recipe below which involves roasting the seeds, then put them to one side rather than throwing them away. Now you have removed the insides of the pumpkin, use a marker pen to draw the outline of the spooky face you wish your pumpkin to have. Carefully cut out the scary face, place a lit tea light inside your pumpkin and replace the crown. Another way to create your decorative pumpkin would be to attach a template to the face of the pumpkin. Use a skewer to mark the outline of your design through the template to punch holes into the pumpkin. Finally use a knife to cut along the dotted lines to form the ghostly face. Ta-dah! Your pumpkin is now ready to great your guests. But will they say trick or treat?
Pumpkin Recipes
Once you and your children have finished transforming your pumpkin into a frightening piece of art, why let the fun stop there? Pumpkin is a great ingredient to cook with! Whether you fancy something sweet or savoury, your options as endless.
The first thing you do when you carve a pumpkin is scoop out the seeds. It seems a shame to throw them away so why not roast them? They are filled with vitamins and minerals and are a great source of fibre. Roasting the seeds is very simple. First start by cleaning the seeds, boil for 10 minutes to soften then drain and dry them. Secondly, toss with oil and place them on a baking tray to roast for 45 minutes at 120°C until crisp. Finally to add flavour sprinkle over whatever you fancy whether it might be salt, pepper or paprika.
The sweet flesh of a pumpkin is perfect for baking cakes when grated. Why not extend your Halloween family fun and try out this Pumpkin Passion Cupcake recipe?  It's a simple recipe so your little ones can get stuck in to. The grated pumpkin can sometimes be a little too wet when it is prepared. If this is the case for you simply give it a good squeeze before using and keep an eye on it when your cakes are baking as the added moisture may need longer to bake.