Kool Cakes Bake a Cake for the Queens Diamond Jubilee
14th June 2012
... Comments
---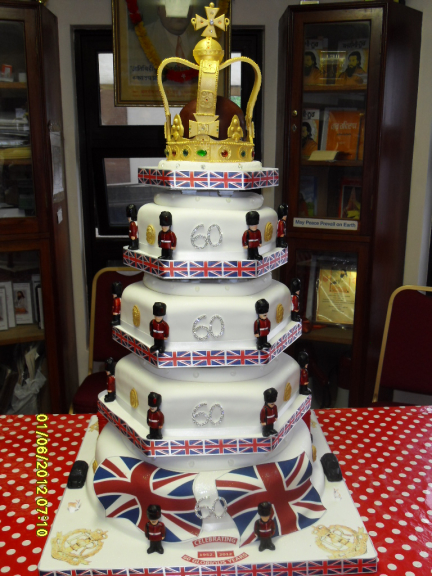 Kool Cakes Bakery had a once in a lifetime opportunity to present a special cake at Buckingham Palace for the Queens Diamond Jubilee celebrations. With the assistance of Mr Virendra Sharma who is our local Member Of Parliament for Ealing and Southall, we sent a letter to the Queen explaining that we wanted to be part of her Jubilee celebrations and requested if we could gift her a special cake to be used during one of the functions over the Jubilee weekend. Our request was accepted and we were presented with this wonderful opportunity.
 "This is the biggest thing that has happened to me in over 20 years of me being in this business and this is a dream come true for me" said Kulwinder Kumar (Paul), one of the directors at Kool Cakes Bakery. He added, "Upon receiving the acceptance letter from Buckingham Palace, I started masterminding the design of the cake. It took over 3 weeks of careful planning, designing and crafting the cake.  Each and every part of the cake was personally and individually crafted by me. Every piece and part of the cake is edible except for the pearls in the crown and the '60' Diamante pin. The cake was designed over 5 tiers which were one on top of the other with the crown right at the top. The cake was 42 inches high and weighed approximately 35 to 40 kilos."
On Friday 1 June 2012 we took the cake to a temple in Southall to be blessed by the priest and also to pray for Her Majesty the Queens long life. Ashit Shah, one of the other directors of Kool Cakes Bakery said, "This is an honour and a proud moment for Kool Cakes Bakery to get such an opportunity and be part of the Queens Jubilee celebrations. We are proud to be Asian and part of the Asian community that has done and are doing a lot in the UK." After leaving the temple, Mr Virendra Sharma, MP, Mr Kulwinder Kumar (Paul), Mr Ashit Shah and Miss Jennifer Bagha (Paul's daughter) accompanied the cake and took it to Buckingham Palace where it was delivered and set up. It was going to be used for one of the functions during the weekend of the Jubilee Celebrations.
This is what Paul's daughter, Jennifer had to say, " I have seen my dad work very, very hard for over 20 years in this business and this is the ultimate reward of his hard work. He deserves it and I and my family are very proud of him and his achievements. This is the icing on the cake. You rock Dad!!"
Kool Cakes Bakery has now opened their 3rd branch in North Harrow. Their other branches are in Kingsbury and Heston. They specialise in egg and egg-less cakes. Be it a cake for a wedding, birthday, anniversary or any special occasion. They create all types of delicious cakes including: fresh cream cakes, butter cream cakes, icing cakes, and chocolate cakes. Fresh cream cakes made within 1 hours notice. Visit our Kingsbury branch at 2 Honeypot Lane NW9 (Tel: 0208 2043949) or Heston branch at 9 Central Parade TW5 (Tel: 0208 5776393) or North Harrow branch at 547 Pinner Road HA2 (Tel: 0208 4279990) where every assistance will be provided to you in making your choice of cake. You will also have the opportunity to browse through our catalogues to further assist you in your selection. You can also design and order your cakes online at www.koolcakes.co.uk. None of our ingredients contains animal fat.
Kool Cakes Bakery wishes Her Majesty the Queen and the entire Royal family long reign over the country and long life!!