SPECSAVERS OPTICIANS IN MARKET STREET SUPPORTS THE GUERNSEY MACULAR SOCIETY SUPPORT GROUP
6th March 2019
... Comments
---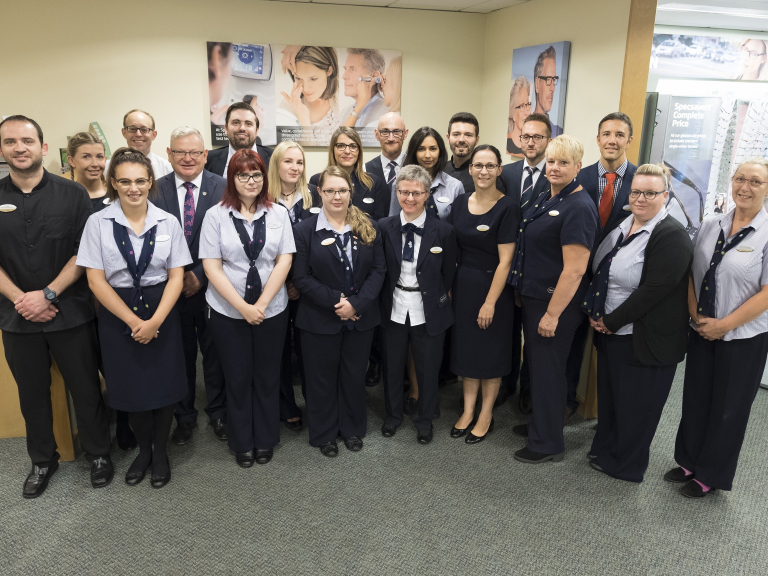 ---
Guernsey's Specsavers store in Market Street aims to raise at least £1,000 for the Guernsey Macular Society Support Group by donating £1 from each eye test carried out in March.
---
Store director Sarah Burchett said: "This is the fourth year we have supported the society after raising £1,000 last year. Macular degeneration is the leading cause of blindness in Britain and there are around 1,000 people who suffer from the condition in Guernsey. There is currently no cure for the disease, which causes sufferers to lose their central vision. It can have a big impact on someone's life as it makes everyday tasks more difficult and can rob people of their independence, so we really want to support the local group."
The Guernsey Macular Society support group helps people with the condition by organising talks and social events to give them the opportunity to meet with fellow sufferers.
Founders of the Guernsey Macular Society support group, Tilly Fisken and Bill Gardiner, said: 'The support we have received from Sarah, her team and the customers that use Specsavers during March is unquantifiable. To know that our Guernsey group can go ahead with organising special occasions and bringing over a speaker from the UK gives us such a boost. We have many people who regularly enjoy our monthly meetings. Thank you to each and every one of you.'
Macular degeneration develops when the part of the eye responsible for central vision (the macular) is unable to function as effectively as it used to. The vast majority of people with macular degeneration suffer from dry AMD, which tends to progress slowly. Sufferers will not go completely blind as their peripheral vision should not be affected but there is currently no treatment for the disease. About one in 10 people with macular degeneration suffer from wet AMD, which can develop quickly and cause the deterioration in vision within days if not treated, so prompt diagnosis is vital. Suffers can be treated with injections of medication into the eyeball and laser treatment to slow down the progression of the disease.
---
For further information about Specsavers Opticians Market Street be sure to check out their feature page here at thebestof Guernsey.
---