SPECSAVERS OPTICIANS IN MARKET STREET RECEIVE AN AWARD
18th June 2019
... Comments
---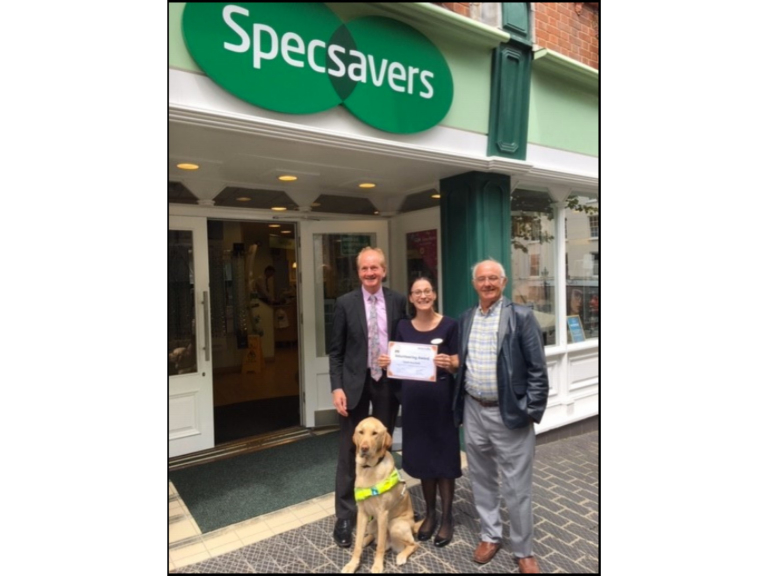 ---
GUERNSEY'S Specsavers store has received a Volunteering Award from the Guernsey Macular Society support group in recognition of its commitment and service over the past five years.
The Market Street store donated £1 for every eye test carried out in March to the group, which supports people in the island with age-related macular degeneration. A total of £1,500 was raised which will go towards the society's research in fighting the disease.  
Store director Sarah Burchett said: 'It was a very humbling experience to receive the volunteering award. We're delighted to be able to support the local group every year as their work supporting people with the condition is an important part of the community. More than 1,000 people suffer from some form of macular degeneration in the island and there is currently no cure for the disease.'
The Guernsey Macular Support Group was formed in 2014 to help people suffering from macular conditions by organising talks and giving them the opportunity to meet and socialise with fellow sufferers.
A tea party was recently held by the local support group to honour the commitment and service of all the volunteers in Guernsey.
Founders of the Guernsey Macular Society support group, Tilly Fisken and Bill Gardiner, said: 'Once again Sarah and her team at Specsavers, and not forgetting their very important customers, have collected such a generous amount of money for the Guernsey group.
'The Macular Society here has gone from strength to strength with a wonderful eclectic mixture of members all coping with their disability in the most remarkable and positive way. Our meetings usually start with a visiting speaker talking on every subject imaginable followed by tea, biscuits and shared moments. Without the support of so many wonderful helpers and supporters, such as Sarah and many others, these meetings would not be such a success. The society is delighted to be in the position to host members at the annual tea party in June, which is proving to be a highlight in the calendar.'
Macular degeneration is the leading cause of blindness in the UK. It develops when the part of the eye responsible for central vision is unable to function as effectively as it used to. The vast majority of people with macular degeneration suffer from dry AMD, which tends to progress slowly. Sufferers will not go completely blind as their peripheral vision should not be affected but there is currently no cure for the disease.
---