INSIDE OUT SUPPORTS DEMENTIA AWARENESS IN GUERNSEY
29th November 2017
... Comments
---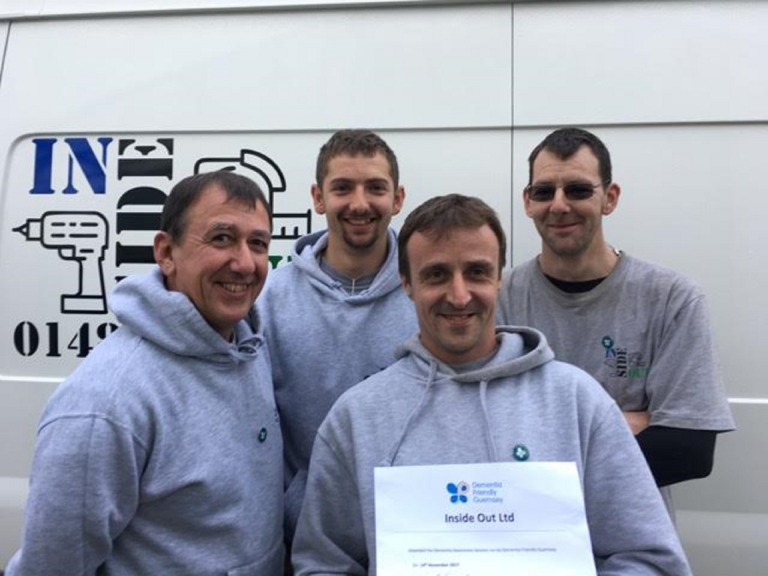 ---
Local family-run business Inside Out not only take pride in regenerating Guernsey homes and gardens, but also in their awareness and attitude towards Alzheimers and dementia.
---
This month the staff of Inside Out attended a dementia awareness course that was run locally by Dementia Friendly Guernsey. This course is free and is aimed at local people and companies who might live, work or encounter those suffering from dementia or Alzheimers. Dementia Friendly Guernsey estimate that over 1,200 people in Guernsey are living with some kind of dementia right now and that two-thirds of those people are living at home.
Alzheimers and dementia sufferers often have difficulties communicating, which this course addressed in depth. Companies like Inside Out meet a lot of people in the course of their business - sometimes that means interacting with people whose capability to communicate may be impaired by dementia or Alzheimers - accordingly it is very important that local business staff are trained to deal with those situations in the most sympathetic and effective way possible.
Attendees of the course receive a certificate and a badge - the photo shows the Inside Out lads with theirs - and learn something new and very worthwhile which will eventually be very useful in the course of their work.
---
If you are interested in attending a free dementia awareness course, or arranging one for your business, please visit this website for further information, then email Dementia Friendly Guernsey on info@dementiafriendly.org.gg. To find out more about Inside Out please check out their feature page here at thebestof Guernsey.
---