Your guide to things to do in Farnham – 22nd June to 5th July
Here's what going on in and around Farnham over the next couple of weeks, there really is something for everyone.
Friday 22 June
Crying Outloud Playing Live at The Plough Farnham  Rock blues cover band playing at The Plough from 8pm till 11pm.
Saturday 23 June 
Voices Together Community Choir SUMMER CONCERT  Free Summer Concert at St. Andrew's Church, Farnham.
Vintage Fashion Fair Farnham  Hand picked vintage dealers will be showcasing beautiful vintage fashion, accessories and textiles to browse and purchase.
Sunday 24 June 
Farnham Music in the Meadow 2018  Enjoy a lazy Sunday afternoon in Gostrey Meadow with Motown and soul music from twentyfivemiles.
Farmers Market  All the products for sale have been grown, reared, caught, brewed, pickled or baked by the stall-holders.
Crondall open gardens in aid of Phyllis Tuckwell Hospice  An opportunity to visit many of the wonderful private gardens in and around Crondall and support a fabulous charity.
Monday 25 June
Farnham Speakers Club  Toastmasters is an efficient, enjoyable and affordable way to gain great communication skills.
Storytime at Farnham Library   Bring your toddler to these free, fun sessions and introduce them to the wonderful world of books.
Tuesday 26 June
Phyllis Tuckwell Open House  Every Tuesday Phyllis Tuckwell open their doors for Open House afternoons, so that you can find out more about the care and support they offer.
Wednesday 27 June
Music Explored - Illustrated Lunchtime Piano Recitals  A series of lunchtime talks and piano recitals this week featuring the world of CPE Bach.
Jazz At The Ivy Room  Fantastic Jazz, Swing and Supper at the Ivy Room, Farnham
Evening Talk: The Archaeology of Farnham  Join local archaeologist David Graham to hear more about the archaeology of Farnham at the Museum. 
Thursday 28 June
The Spikedrivers  Boogaloo Promotions presents an evening of blues music at Farnham Maltings.
Friday 29 June
Battle of the Bands  The Plough Farnham and Weyfest bring you an old school Battle of the Bands competition.
Saturday 30 June 
Farnham Carnival Parade and Fayre 2018  Farnham's fantastic family event - ' Rock and Pop Legends ' is the theme for 2018.
Live Music at Borellis from Jones and Co  Continue the Carnival atmosphere with live music at Borellis Wine Bar and Grill, Farnham.
Sunday 1 July
Phyllis Tuckwell Plant Sale  Large variety of plants and shrubs for sale at bargain prices!
Farnham Town Walks  You are invited to join guided tours of Farnham and discover its hidden charms.
Farnham Music in the Meadow 2018  The annual Picnic in the Park at Gostrey Meadow will be running from 12.00pm to 6.00pm.
Monday 2 July
Pie and Pint Club, Heath End  Are you a retired man living on your own? If so, join Farnham Assist for a good chat and a tasty pub lunch.
Wednesday 4 July 
The Plough Jam Night  Meet fellow musicians, experiment and have fun at The Plough's Wednesday Jam nights.
Car Boot Sale at Country Market Bordon  Find out more about local regular car boot sales at Country Market
Thursday 5 July
Aynsley Lister Band at the Farnham Maltings  Boogaloo Promotions present this incredible guitarist. 
Coming Soon…
Mirth Control Comedy Live at Borellis  Enjoy an evening of comedy starring outstanding headline comedians.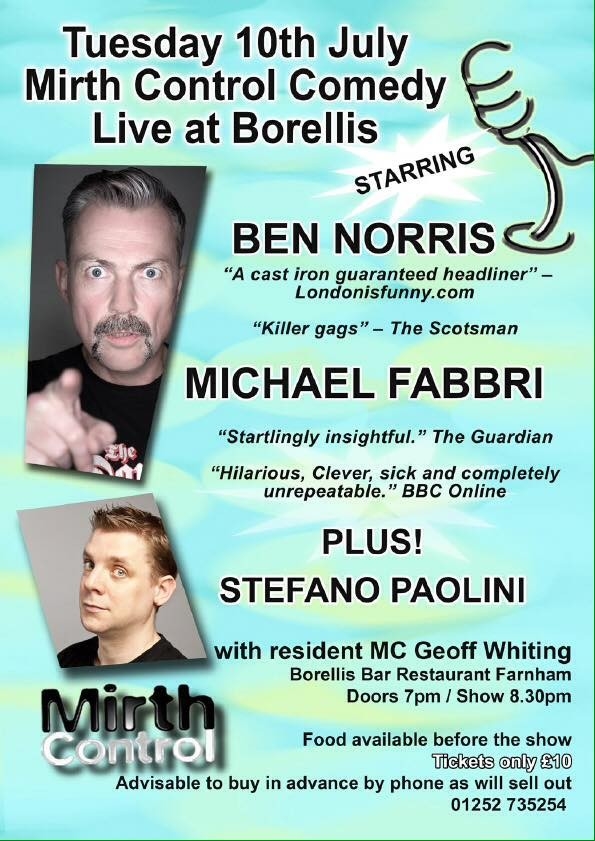 For further details about all these events and to find things to do in and around Farnham, please visit our Events page HERE  
If you'd like to maximise the audience for your events add them FREE to thebestof Farnham website HERE – and we'll promote them to thousands of local people.  
To keep up to date with everything that's happening locally, great offers and trusted local businesses register for email updates HERE.