EVENING CHURCH SERVICE
South Street Free Church, Eastbourne,
BN21 4UP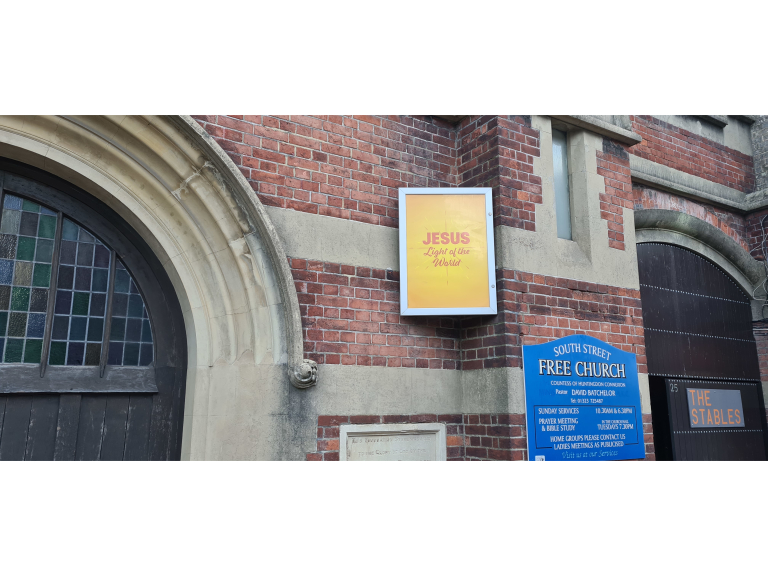 Christian Church Service held at South Street Free Church
We'd love to see you at any of our meetings. Here's a brief guide of what to expect if you're coming to our church for the first time:
ARRIVING
If you're not sure where you're going, click here for directions! Sunday services start at 10:30am and 6:30pm, and usually last around an hour. Come as you are; you'll be greeted at the door by a friendly face.
ACCESSIBILITY
The building is wheelchair-accessible, through the side entrance. Come to the main front door and someone will assist you. The church and side room have an induction loop system for the benefit of hearing aid wearers.
SEATING
There's no reserved seating.If you'd like to sit somewhere more discreet, there is a first-floor gallery where you can observe the service without being surrounded by people.
WHAT HAPPENS
The service will usually start with a welcome and a few notices including information of fire escapes etc. Then there is usually singing of both traditional and modern songs accompanied by the piano, a Bible reading, prayers and a sermon. We usually stand up to sing and remain seated for everything else. There's no obligation to join in with the singing if you're not familiar with what's being sung, and you won't be asked to pray out loud, come forward, or introduce yourself to everyone.
CHILDREN
Children of all ages are welcome. We don't run a formal creche, but you can take children to a side room where the service is relayed and where toys and activity books are available.
AFTERWARDS
Please do stay after the service and get to know us a bit better. Tea and coffee is served after the morning service.
WORTH BRINGING:
the family – children of all ages are welcome at our Sunday services.
a Bible (if you have one). If not, don't worry – we have plenty available to borrow.
NO NEED TO BRING:
money – all our activities and services are completely free to attend.
"Sunday Best" – at our services you'll find some people dressed smartly and others casually. We don't make judgements based on how people are dressed, so come as you are
Future dates
Sunday 5th June 6:30pm until 7:30pm
Sunday 12th June 6:30pm until 7:30pm
Sunday 19th June 6:30pm until 7:30pm
Sunday 26th June 6:30pm until 7:30pm
Sunday 3rd July 6:30pm until 7:30pm
Sunday 10th July 6:30pm until 7:30pm
Sunday 17th July 6:30pm until 7:30pm
Sunday 24th July 6:30pm until 7:30pm
Sunday 31st July 6:30pm until 7:30pm
Sunday 7th August 6:30pm until 7:30pm
Sunday 14th August 6:30pm until 7:30pm
Sunday 21st August 6:30pm until 7:30pm
Sunday 28th August 6:30pm until 7:30pm
Sunday 4th September 6:30pm until 7:30pm
Sunday 11th September 6:30pm until 7:30pm
Sunday 18th September 6:30pm until 7:30pm
Sunday 25th September 6:30pm until 7:30pm
Sunday 2nd October 6:30pm until 7:30pm
Sunday 9th October 6:30pm until 7:30pm
Sunday 16th October 6:30pm until 7:30pm
Sunday 23rd October 6:30pm until 7:30pm
Sunday 30th October 6:30pm until 7:30pm
Sunday 6th November 6:30pm until 7:30pm
Sunday 13th November 6:30pm until 7:30pm
Sunday 20th November 6:30pm until 7:30pm
Sunday 27th November 6:30pm until 7:30pm
Sunday 4th December 6:30pm until 7:30pm
Sunday 11th December 6:30pm until 7:30pm
Sunday 18th December 6:30pm until 7:30pm
Sunday 25th December 6:30pm until 7:30pm
Sunday 1st January 6:30pm until 7:30pm
Sunday 8th January 6:30pm until 7:30pm
Sunday 15th January 6:30pm until 7:30pm