Keeping your business safe from Financial Exploitation *FREE EVENT*
The Cumberland Hotel
34-36 Grand Parade, Eastbourne, UK
BN21 3YT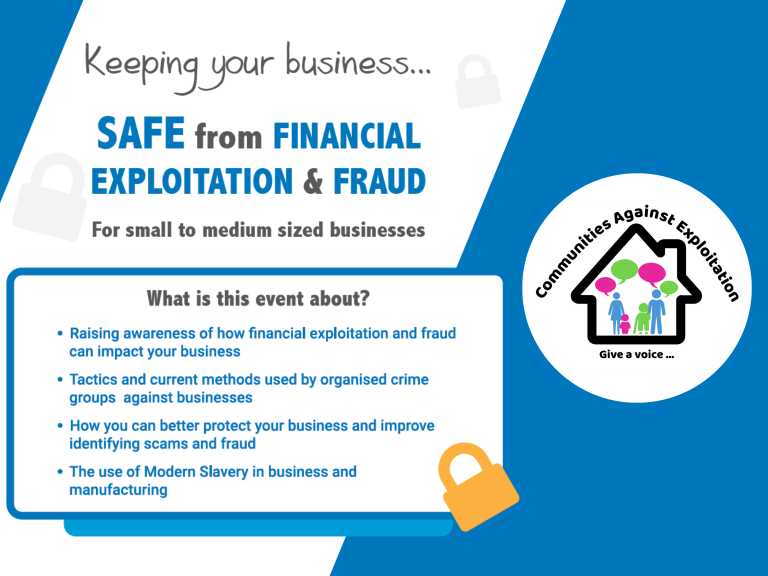 thebestof Eastbourne is proud to bring the Communities Against Exploitation event to business owners in the town. This free event will help you identify how to keep your business safe from Financial Exploitation & Fraud.
The Communities Against Exploitation Campaign has been developed in partnership by the Safer East Sussex Team, Sussex Police, Stop the Traffik, NatWest and The Department for Work and Pensions.
The overall aim of our campaign is to raise awareness of emerging crime trends and equip community groups with knowledge and current information in order for them to signpost individuals and groups about subjects they are not currently familiar or confident to respond to by:
            - Increasing knowledge; raising awareness of the latest threats and how to be preventative.
            - Empowering individuals to have the ability to respond appropriately. 
            - Enhancing the ability for local organisations to provide solutions for these issues through                                      partnership working.
This free event is specifically designed to help small to medium size businesses keep safe from Financial      Exploitation & Fraud with  specialist speakers:
- Laurie Church - Modern Slavery Community Coordinator STOP THE TRAFFIK  – East Sussex
- Sara Braker - Modern Slavery Lead for London and Home Counties ,Serious and
   Organised Crime, Department for Work and Pensions
- Claire Lands CCBI - Community Banker South Coast, NatWest Bank
I hope you can join us on the 25th March 2020 and if you have any queries please do not hesitate to contact: sam.harman@eastsussex.gov.uk