Our Highlights of the Cinderella Panto at Queens Theatre Barnstaple
14th December 2015
... Comments
---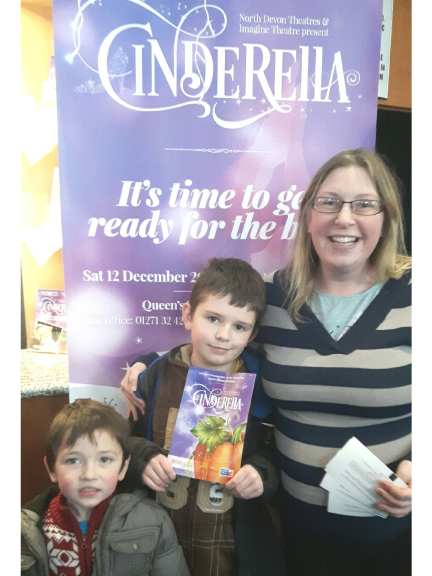 As I expected the opening performance was packed with families all waiting to join in the fun. Let me tell you they were not disappointed. Cinderella has everything you would expect from a quality pantomime and so much more. I laughed till I cried, the boys sang along and everybody joined in with the "He's behind you!" they were enthralled throughout!  It had a modern twist and a lot of audience participation. This all singing, all dancing spectacular has more colourful costumes and one liners than I have brought Xmas presents (that's impressive)
The Ugly sisters – Verucca and Flatula are quite a sight to see and are so unbelievably hilarious it's hard to remember that they are the mean ones in the panto. When asking my 4 year old what he liked best it was hard for him to pick one thing and trust me he has not stopped talking about it ever since. "I love Buttons mummy" (The character although his love for chocolate buttons is probably a close contender) He also laughed hard and louder than anyone in the auditorium whenever there was slapstick comedy. Well there's nothing better than a pie in the face or a kick up the backside whatever your age.
My ten year old was intrigued from the moment we walked in. He was amazed by the lights, sound and pyrotechnics and found amusement in the gags which were aimed at the parents more than the little ones. My son commented "I would give it ten out of ten, I liked the pranks and all the action" He also informed me he would be telling all his friends at school. The acting was flawless and the voice from Cinderella would give Adele a run for her money.
So if you are thinking about keeping those little faces happy over the festive holidays, can I suggest you take them along to Cinderella at the Queens Theatre? Honestly if not for them, do it for yourself. Its such a riot – Hats off to all involved in the pantomime you are doing a cracking job and I can't thank you enough for bringing joy and smiles to my wonderful sons and family.
 If you are up for a family fun filled fiasco head over here http://ow.ly/VP7KI  for performance times, dates and buying your tickets.