Looking After Your Pets on Guy Fawkes Night!
28th October 2014
... Comments
---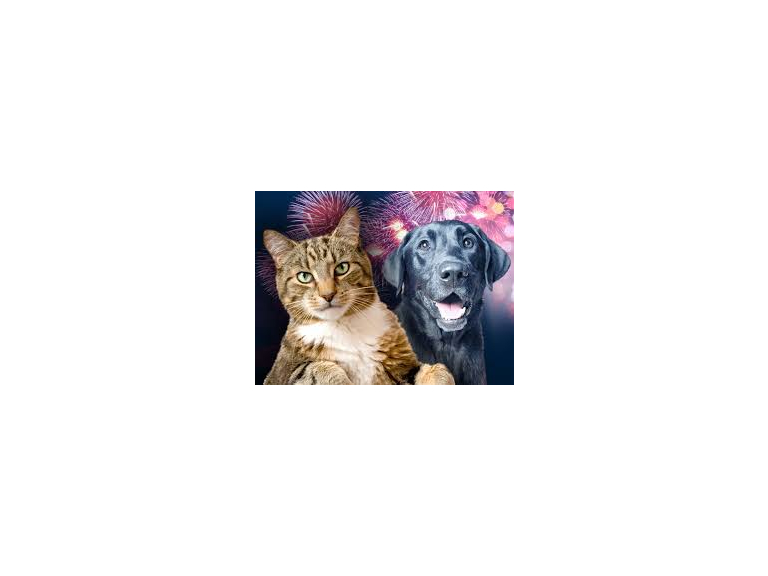 Whatever you might think, many animals are frightened by fireworks.  It doesn't have to be that way though, so don't ignore the problem. Seek advice from your vet who can offer you contacts with animal behaviourist. And there are some obvious top tips to make the celebrations less frightening for your pet.

Keeping cats and dogs secure
• Make sure your dog or cat always has somewhere to hide if he or she wants to and has access to this place at all times. Under some furniture or in a cupboard are good places 
• During firework seasons, walk dogs during daylight hours and keep cats and dogs indoors when fireworks are likely to be set off.
• At nightfall close windows and curtains and put on music to mask
and muffle the sound of fireworks.
• If your pet shows any signs of fear try to ignore their behaviour. Leave them alone unless they are likely to harm themselves.
• Never fuss over your pet when it's scared as this will only make things worse in the long run. They will take their lead from your behaviour.
• Make sure your cat or dog is always kept in a safe and secure environment and can't escape if there's a sudden noise.
Have your pet microchipped in case they do escape. 
Planning ahead can help your pet cope with the firework season. Talk to your vet about pheromone diffusers. These disperse calming chemicals into the room and may be a good option.
If you keep rabbits and guinea pigs in the garden move their hutch into a garage or shed for the week around firework displays. And cover the cage at night with a rug to minise the noice and flashes.
Also don't for get about larger pets like ponies, donkeys & horses. They are 'flight' animals and their reponse to noise, flashes and smells of fireworks is likely be erratic. If possible keep them stabled with top doors shut. Play music and increase the volume in the weeks leading to fireworks week. Keep lights on to diffuse the bright flashes. 
Take care of your pets and forward planning through this week can help to make fireworks displays a pleasure to watc, not a worry for your animals