Butterfly Films Lifts Off With North Devon's Farming
29th August 2016
... Comments
---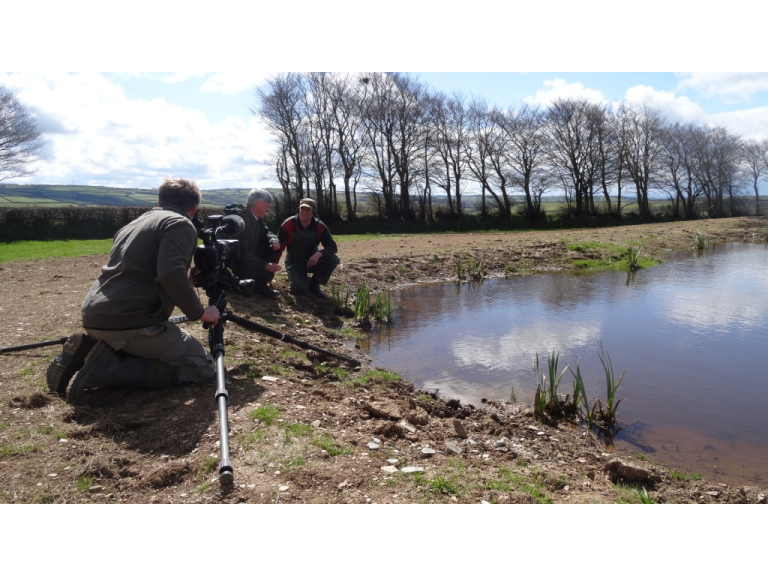 The film covers the hot topic: How to prevent agricultural runoff which can pollute the river system, force closure of fledgling shellfish businesses in the estuary and lower water quality on bathing beaches.
The teams made a decision early on to ask the farmers to tell the story in their words (just like Boat Stories did with the fishermen).  Jo Stewart-Smith says, "I did wonder whether farmers working in the hills would want to talk about pollution in the estuary, but as soon as I listened to the farmers, a different picture emerged and I realised we rarely hear their side of the story." 
As Phil Morrish from Stoneyard farm, near Barnstaple says, "The last thing we want to do is lose precious sediment and nutrients into the river.  By digging a simple sediment trap, we can actually return this nutrient-rich soil to the farm."
Initially the farmers may have felt outside their comfort zone speaking on camera, but their passion for the project overrode any worries and they were walking and talking us through like professional presenters.
As Phil digs a series of ditches, he explains "The important thing I learned is slowing the flow of water gives the sediment and nutrients time to settle out and at the same time reduces the flash flood risk to nearby Barnstaple.  The result is a positive, inspiring film which reveals that creating new wetlands brings numerous other benefits to the farm, like saving electricity on the dirty water pumps or needing less bedding in the sheds".
Andrew Mather's new wildlife ponds now form one of the attractions for caravaners visiting Hallsdown farm on the fringes of Exmoor.  Tom Hynes, biodiversity officer for the biosphere, outlines the long term gains for all of us as the patchwork of new wetlands matures and the water quality in the estuary improves.
The film has captured the 'magic' of Boat Stories all over again and can be viewed on the biosphere's estuary project page at: http://www.northdevonbiosphere.org.uk/estuary-project.html  or on butterfly effects at: http://www.butterflyeffectfilms.com/.
It was made to inspire other farmers to create wetlands and take up available grants so don't forget to watch and share.