An Introduction to Sutton Ramp Events
18th March 2013
... Comments
---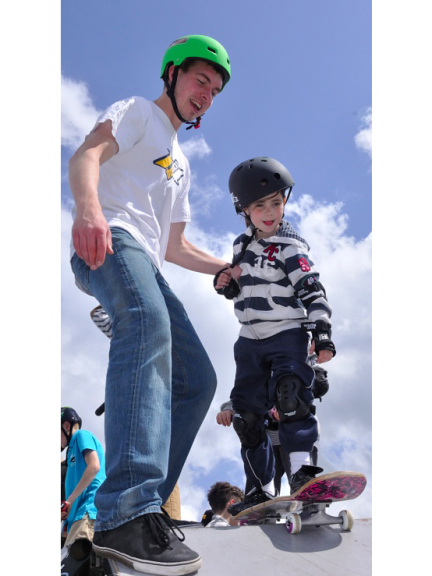 Welcome to Sutton Ramp Events' first blog entry on The Best of Sutton website. It's pretty hard to sum up everything that we do, but in a nutshell here's a short introduction:
Sutton Ramp Events has been providing high quality services for young people throughout Sutton borough for the last nine years. During this time, the charity has garnered close relationships with Sutton's Safer Neighbourhoods Police Teams, Sutton Youth Service, and many other youth organisations such as Sutton Mencap and Sutton Young Carers.
We specialise in supervising and facilitating urban extreme sports events for young people, which includes skateboarding, scootering, BMXing and inline blading. With our mobile ramps, safety equipment, skateboards and expertise, our two Skate Tutors visit schools and skateparks around Sutton to provide skateboarding lessons and run competitions to encourage young people to get active and learn a new hobby. The Tutors are often accompanied by a group of specially-trained volunteers, aged from 14 and up; many of these are young people who see the good work the charity does and want to give back to their community.
But why skateboarding and extreme sports? There are a number of reasons which I'll expand on in later posts, but for now here's three big ones:
Skateboarding is different from other sports. There is a novelty in learning to balance and move on a piece of wood with wheels attached. Along with it is an inherent danger of falling off—hence the safety pads and helmet! It provides, however, a welcome change from orthodox sporting pursuits, a change from which many young people, including students, benefit. In our experience, this change is especially useful when seeking to engage students who are at risk from exclusion from school. The sport has an edgy culture; and to become profficient at it certainly adds street credibility.

Urban extreme sports provides a diversionary activity that boosts fitness and well-being. These days, it's all too easy for young people to amuse themselves infront of the television or games console. This is reflected in the worryingly high levels of childhood obesity. By having a hobby such as skateboarding, young people instead spend their time positively, practising and overcoming challenges in an outdoor, social environment.

Learning to skateboard boosts self-esteem and confidence. Sutton Ramp Events' Skate Tutors often comment that the most rewarding part of their job is teaching and encouraging a novice skateboarder to ride down a ramp for the first time. Whereas previously that individual might have considered this feat impossible and something they would never try, many are surprised at what they are able to achieve with practice and confidence. Off the back of this first experience, young people become hungry for more, wanting to learn other tricks and progress further with the sport.
Many thanks for reading! If you would like to find out more about Sutton Ramp Events, please visit our website for information about our work in Sutton. You can also visit Urban Youth Action's website, which is our umbrella charity covering our work all over London.