What's on in Solihull 1st July - 7th July 2016
Here's my weekly round-up as we go into July and we are now officially in Summer mode. The longest day has been and gone so with the added bonus of more daylight hours we can get ourselves out and about.
This week we have another host of events to choose from but to make sure you don't miss out on anything  have a look at our full listings here .
If you have an event you are organising and want us to include it on our weekly listings, you can add it free of charge  here.
Friday 1st July sees the weekly events of;
Family Friday  at Silver Blades  Ice Rink
Mischief Solihull Every Friday  at Luna Night Club
Hosted on the first Friday of the month, Solihull's  Farmers' Market operate throughout the year with a wealth of seasonal food and drink available. 
On Saturday the Midland Vintage and Antique Fair  is on at Fentham Hall. This family run Fair which has been in business for over 20 years. It is held on the first Saturday of the month and well worth a visit.
Don't miss the  Brueton Parkrun held every Saturday this 5km family event is a great way to have fun and keep fit.
Pop along with your little ones to Touchwood and  Story time with Ben & Holly On from 11.am  till 4pm.
On Saturday afternoon grab a bargain at the  car boot sale  in the Old Bosworth Wood School Car Park. Run by volunteers of The Cars, Big Local. It starts at 12pm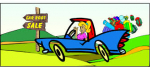 Everyone loves a Carboot & Market this one is held every Sunday, Hockley Heath Car Boot Sale & Market  open 6am til 1pm it always draws the crowds, and everyone is welcome.
On Wednesday (for adults only) join in the  Karaoke Wednesdays  at The Walkabout Bar from 10pm
On Thursday morning  thebestof Solihull Breakfast Networking gets under way at Crust Coffee House & Pizzeria, both members and non-members are welcome to take part in this relaxed event, you can buy your tickets here, so come long and meet new friends and make many great business contacts. 
Thursday night you can take advantage of  Late Night Opening at MotorServ-UK  til 7.30pm.
So you don't miss out I have to mention two events next weekend!
The  Midsummer Craft Market on Friday 8th & Saturday 9th July. The market showcases the work of local artists and jewellery designers, as well as offering artefacts from Morocco and other overseas locations.  Plants, fine foods and street food are also available.
And also on Friday 8th July the  Rio Carnival Summer Charity Ball at St John's Hotel in aid of Age UK Solihull and Sustain. There's a welcome drink, delicious 3 course dinner with coffee, live music, auction, raffle, photobooth and lots more!
Like I said this is just a round-up, make sure you have a full read of the complete local listings here and why not  take a look at the local offers and blogs.   
Myself and John wish everyone a great weekend what ever you do, don't forget if you visit a bestof business and enjoy your experience why not leave them a review?
Look out for the logo and show them you love them.

See you next week 
Ann