'The Dehli' Announces Exciting NEW Menu
At The Delhi they strive to provide a unique experience in eating, bringing you authentic Indian cuisine, reliving the days of the Old East and embracing the new flavours of the West.
The exciting New menu even introduces several exciting NEW dishes, and feature some amazing super foods, inspired by some of the amazing modern street-foods of Delhi and the many diverse regional flavours served up across India.
The Delhi's success is testimony to the exquisite presentation of their food, which is meticulously prepared by AWARD-WINNING CHEFS in the  OPEN KITCHEN using only the freshest ingredients. Whether you eat in, take out or use their FREE delivery service, we hope it is an experience you will long remember and you will be sure to visit The Delhi again and again. 
So take a look for yourself at the wonderful NEW menu and book your table or order a take away on 0121 705 1020. 
The Delhi
678 Warwick Road
Solihull
West Midlands
B91 3DX
With the launch of their NEW Menu The Delhi also have some amazing offers to tempt you further to check out their excellent Indian cuisine, and remember to be sure to leave them a review because I am certain you will enjoy the experience and want to show you love The Delhi and the fabulous staff.    

With Maz Rahman, award winning chef and owner of The Delhi and Panchuli Fine Indian Dining  you can  learn how to cook in Maz's Indian Kitchen  in the authentic style and have a fun experience.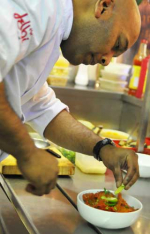 During this fun practical experience you will learn about the preparation of the ingredients ,and creation of the dishes. This is a very hands on class all the ingredients and recipes are provided for a full meal which you will have the opportunity to eat at the end of the class.
Price £50 per person (max 4 people per class)
Classes run 11.30am to 2pm Mon/Tue/Wed to book please call Maz on 0121 705 1020 or email :- cookeryclasses@thedelhi.com