Now in it's 12th year this well- established, popular family bike ride organised by the Knowle and Dorridge Lions takes place to raise funds for the British Heart Foundation (BHF) and local causes.
Starting between 9.30am and 11.30am on Sunday 16 July at Packwood House, cyclists have a choice of approximately 12, 18 or 30 mile circular routes (20km, 30km or 50km) along Warwickshire country lanes. Cyclists can take on the ultimate challenge and cycle approximately 60 miles (100km) by completing all three routes.
"This event seems to be going from strength to strength with over 750 riders raising more than £20,000 for charity last year," says Knowle and Dorridge Lions organiser Paul Wheatley.
"With a choice of 4 distances there is something for all abilities, families, teams & individuals. We received great feedback from riders last July who enjoyed the lovely atmosphere, getting fit, completing a challenge and raising money for charity, all at the same time.
It is a great opportunity to spend a Sunday with friends, family or colleagues cycling through the glorious Warwickshire countryside and villages. After the bike ride, food will be available to purchase from the Lions Club BBQ and there is free entry to Packwood House and gardens.
It's a great day out for everyone!"
The Lions are delighted to welcome back main sponsor Hollywood Monster. "This will be our 7th year supporting the Lions. They do a great job organising this and other fundraising events" says Chief Executive Simon McKenzie "We shall be entering a team and hopefully have a new Hollywood Monster to wave off the riders from Packwood House on the morning."
Donna Stokes, BHF Fundraising Manager said: "Fundsraised will go towards our vital heart research that could help to prevent or improve the diagnosis and treatment for heart disease. We all know someone who has been affected by heart disease, this is your opportunity to raise funds to support the research that can give them more hope for the future."
For more the details and to enter now visit www.knowleanddorridgelions.com/bikeride  HERE
If you would like to support the Lions & BHF but don't ride why not volunteer to help organizing the event. Please contact Paul via info@knowleanddorridgelions.com
For further information please contact Dave Carter on 01564 770749 or Donna Stokes, on 0121
353 2087 or
E-mail: dave_carter@blueyonder.co.uk or stokesd@bhf.org.uk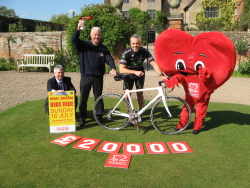 PHOTOGRAPH:
Lion Paul Wheatley, event organiser,
Lion President Richard Buckley
Nick Fellows, Commercial Director, Hollywood Monster
Donna Stokes, BHF as Hearty

VIEW EVENT DETAILS & PRICES HERE