The Mayor and Mayoress of Solihull for 2017 - 2018
are Councillor Stuart Davis
and Mrs Sarah Walker.
On his appointment as the new and 64th Mayor of Solihull at the Annual Council meeting on Tuesday 16 May 2017, Councillor Davis said:
"It is a huge honour to be appointed as Mayor of Solihull for the year.

"I hope that during the next twelve months I shall have the opportunity of visiting some of our schools, colleges and academies. We in Solihull are rightly proud of the work our students and staff do, and in the wonderful results they attain.

"I would also like to meet some of the people who work, or volunteer, to help those who, for whatever reason, need some support in their lives. We are very fortunate in Solihull that we have a very strong and active voluntary sector. I think it is generally recognised that without the work of this sector many people's quality of life would be the poorer.

"Also, if I can do anything through the office I hold that helps to continue business investment in our borough, and create new jobs for our residents, I am ready to play my part. I am really looking forward to the next 12 months."


The Mayor has nominated Prostate Cancer UK Solihull, Macmillan Cancer Support Solihull and other Mayoral Charities for his tenure.
The Mayor will be supported in the role by his daughter Sarah Walker, as Mayoress of Solihull.
The Mayor - Councillor Stuart Davis
Stuart was born in Croydon, Surrey. He has lived in Knowle for all but fifteen years of his life. He was educated in Knowle & Solihull.
During his career he worked for the Marley Tile Company, during the construction of the Chelmsley Wood development, and later moved to ICI and then to Courtaulds. He started his own business as a main stockist for polythene products and other products for the horticultural trade. He then moved his business and family to south Devon and then to live and work in the Canary Islands where Stuart had business interests.
Stuart's interest in politics started in his late teens, and he first entered Solihull Council as the Conservative Councillor for the Shirley West ward in 1979. On moving to Devon he was elected to Devon County Council. On returning to the UK he stood for firstly Shirley West ward and then the St Alphege ward, which he has represented since 1999.
Stuart has two sons, a daughter and a step-daughter and has just become a grandfather for the eighth time
In his spare time Councillor Davis likes to tend to his garden and go travelling, he has also been a member of Lions Clubs International for over 30 years and is currently a member of Knowle & Dorridge Lions Club.
Mayoress of Solihull - Mrs. Sarah Walker (Daughter)
Sarah was born in Solihull's Netherwood Maternity Unit. She was educated in Dorridge, Warwick and Stratford-upon-Avon.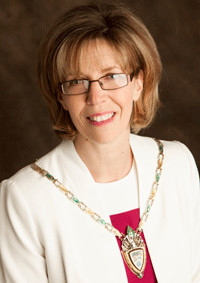 She first worked for a credit rating company and then for Cheltenham & Gloucester Building Society. When she left on maternity leave she was Assistant Manager. Later on Sarah also worked in the cash office at Tesco. At the present time she works as a Teaching Assistant at the Willows School, Stratford-upon-Avon.
The Mayoress and her husband Jeremy have three daughters and they live in Stratford-upon-Avon.
Any organisation or individuals planning an event who would like the support of the Mayor are invited to email: mayor@solihull.gov.uk