Solihull Students are available to help your business grow.
9th January 2017
... Comments
---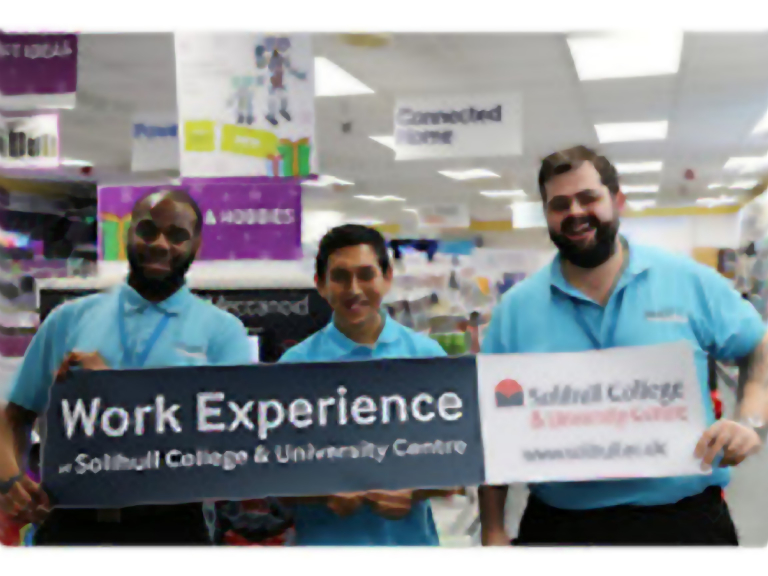 Can you give a Solihull College & University Centre student the opportunity of 30 hours work experience within your company?
Work experience is an important part of any student's academic studies; it helps make students more 'work ready'. Learning key skills during work experience will make students more employable, whilst giving them real industry experience of what employer expectations are.
Perhaps there is an area in your business that would really benefit from having a work experience student on board? You may have a database that needs cleansing, help in preparing for an event, a marketing drive they could assist you with. The list goes on!
Many businesses in Solihull have already benefitted from offering a student work experience. Edd Summers, Store Manager at the Solihull branch of Maplin took on student Hassan Ali who impressed so much he was then offered a part time job. Edd comments "We believe it's important to support young people in gaining experience like this. Working with us, students gain experience of customer service, using the store's in-house systems, plus they get to learn all about what we sell. He's taken everything in his stride and has already become a great addition to the team".
In addition, having a young person on board will enable you to see the qualities they possess and they may end up being such a bright shining star in your midst, you bring them on board as your apprentice down the line! Lord Sugar sees his apprentices in action before he makes his final decision; it may also work for you! Solihull College & University Centre can assist with all of your apprenticeship needs, enabling you to take advantage of a very cost effective and beneficial way of expanding your team.
If you can help me by supporting the students with work experience or would like more information about recruiting an apprentice please email me on marie.brennan@solihull.ac.uk