The poppy has become a symbol to mark our respect for those who have died during the First World War and World War II as well as the millions of other people affected by war.
Remembrance Day falls on a Friday this year, while Remembrance Sunday will be on November 13 – the second Sunday of November.
Thousands of memorial services will take place in England, Scotland, Wales and Northern Ireland, while the Prime Minister, Queen, MPs and veterans will pay their respects at the Cenotaph in London and Trafalgar Square.
Every year, the Royal British Legion's poppy appeal raises tens of thousands of pounds for servicemen and women and their families.
Why do we wear poppies?
Poppies are said to be the first flower to emerge from the freshly-dug graves of dead soldiers on Flanders Fields.
Canadian Doctor John McCrae was the first person to notice and he went on to write the poem In Flanders Fields – recalling the scene.
The poem was publish in 1915 on December 8th in Punch magazine and inspired the use of silk poppies as a sign of remembrance.
The newly-formed Royal British Legion bought 9 million silk poppies in 1921 and sold them to raise today's equivalent of £30 million towards veterans and their families.
The poppies have now come to symbolise remembrance and hope.
Remembrance Day in Solihull
A Remembrance Service will be held at the war memorial outside St Alphege Church, The Square, B91 3RQ, on Sunday 13 November.
However for the first time this will be preceded by a parade along Solihull High Street from 10.15am with music from the West Midlands Fire Service band.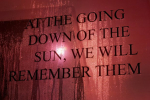 As the custodians of Remembrance, the parade will be led by the Solihull branch of the Royal British Legion. A wide array of Solihull groups and organisations have been invited to take part.