Press release from The Beech House in Solihull
As the horrors of the Amatrice earthquake continue to unfurl, and the scale of the devastation and the need for assistance becomes ever more apparent, one UK pub company has pledged to help by donating every penny they would get from the sale of all their Pizzas and pasta dishes to the Italian Red Cross in order to provide some care for the hard-pressed victims and their families.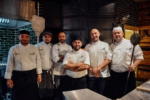 Oakman Inns & Restaurants – the company which operates the recently opened Beech House in Warwick Road, Solihull - has decided to raise funds to help the Italian relief effort.
As a result, every one of its seventeen-strong collection will be donating the full net price of every pizza or pasta dish they sell for three days from Tuesday 30th August to Thursday 1st September.
They will be telling all their customers over the next 48 hours and urging everyone to get on board the social media campaign to#EatForItaly.
CEO, Peter Borg-Neal, explains their decision: "At Oakman Inns, we have strong connections with Italy. Much of our menu is inspired by Italy and their traditional cuisine - and we therefore have a huge number of colleagues who are Italian. We have decided that we want to do something really meaningful to help the victims of this disaster. As a result, we will donate the full net price of every pizza or pasta dish sold next week for three days between Tuesday 30th August and Thursday 1st September to the Italian Red Cross. to help provide relief. If we sold our normal amount of dishes we would be sending a cheque for around £20,000 to Italy. I am hoping wewill have to write a much bigger cheque."

Over the past two years, all Oakman Inns have been adding authentic wood-fired Pizza Ovens into their pubs and Peter insists on training his principal Pizza chefs in Italy. "One of our restaurant teams only recently came back from training in Naples, and on Tuesday night, only a few hours before this terrible event, we were holding an internal competition to discover our best Pizzaiolo."
The 6.2 magnitude earthquake struck at 3:36am on Wednesday morning and devastated the towns of Amatrice, Accumoli and the village of Arquata del Tronto in the northern Lazio region of Italy. The Italian Red Cross and many other Italian and European emergency forces plus thousands of volunteers are providing rescue services and relief efforts for the survivors many of whom have lost everything in the space of a few minutes.,
Hopes are dwindling of finding more survivors alive as aftershocks are continuing to hamper rescue efforts, and the number of people killed could yet surpass the last major earthquake to strike Italy in L'Aquilla in 2009 when more than 300 people were killed. The mayor of Amatrice, Sergio Pirozzi, said "Our heart is broken but will be resurrected", whilst Italy's prime minister, Matteo Renzi, has said "Today is a day for tears, tomorrow we can talk of reconstruction."