National Nest Box Week (NNBW) takes place each year from  14th - 21st February and  it's a chance for you to encourage birds in your garden to come home to roost!
NNBW has been celebrated for more than 19 years and is now an established part of the ornithological calender. This weeks aim is to encourage everyone to put up nest boxes in their local area, to promote and enhance biodiversity (the variety of life) and conservation of our breeding birds and wildlife.
Anyone can take part whether you're a family with space for a box in your garden, a teacher, a member of a local wildlife group, or you belong to a bird club. The aim is to get people to put up boxes during this week but you can put a bird box up anytime.
It is very important that boxes are put up, natural nest sites for birds such as holes in trees or old buildings are disappearing fast as gardens are 'tidied' and old houses are repaired.
Taking part is two fold, it is the chance to contribute to bird conservation whilst giving you the pleasure of observing any breeding birds that you attract to your nest box.
Register for your  FREE NNBW information pack now.
Making a nest box
Different types of boxes will attract different types of birds. There are two types of nest boxes recommended for gardens,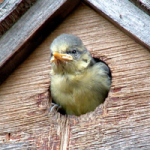 1. Small-hole nest box which is occupied by tit species, such as blue tit , great tit, coal tit, marsh tit, willow tit and the house sparrow, tree sparrow, nuthatch, redstart and pied flycatcher.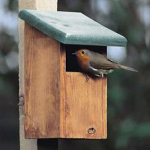 2. Small open fronted box which is used by robins, pied wagtail and the spotted flycatcher.
There other nest box options are large boxes with a hole for swifts, starling, great spotted woodpecker and the little owl, or very big boxes to house kestrel, tawny owl, barn owl, stock dove and the jackdaw.
If your not very handy at making a box you can of course buy one!  They come in a huge range of shapes and sizes, but while some provide a perfect breeding cavity for birds, others are far from ideal. 
Only choose a box made from an insulating material such as wood or a special waterproof wood/concrete compound.
The wood should be about 19mm thick (but no be less than 15mm). A box made from cedar, oak or beech will far outlive one made from softwood such as pine, and one that is preserved on the outside non-toxic and water-based will last longer.
Don't choose a box made from thin wood, plywood, corrugated cardboard, plastic or solid ceramic materials.
Choose a box with a 32mm entrance hole as this is the ideal size for all small hole-nesting birds.
The box should not be too small inside as birds may lay fewer eggs in smaller boxes.
Perches are not necessary and may even act as a foothold for squirrels or weasels as they reach into the box to grab eggs and chicks.
A good box should provide easy access for human observers.
Lastly dont choose a box which is incorporated in a bird table as the nesting birds may come into conflict with the feeding ones.
Pay a visit to  Earlswood Garden and Landscape Centre and see the wide range of nesting boxes they have in the store.
Where to put the nest box
Where you put your box is every bit as important as what it looks like.  The highest priority when siting a nest box must be to provide a safe and comfortable environment in which birds can nest successfully.
It should not be too close to another nest box, shelter your box from the weather put it at an angle to prevent rain from entering the nest box. Make sure it is sheltered from prevailing wind, rain and strong sunlight.
It should be placed 3 metres from the ground, small-hole boxes are best placed 1-3m above ground on tree trunks, or if no trees! on the side of a wall or shed. Open-fronted nest boxes should be hidden from view, with shrubbery or creepers growing against it. 
Make sure cats cannot get into the box or other predators such as squirrels, and keep nest box away from bird feeders, so the birds are not disturbed.
When you have your nest box up you can monitor it and be part of the  Nest Box Challenge. Good Luck!