Did you know Monkey Day is almost here!
13th December 2015
... Comments
---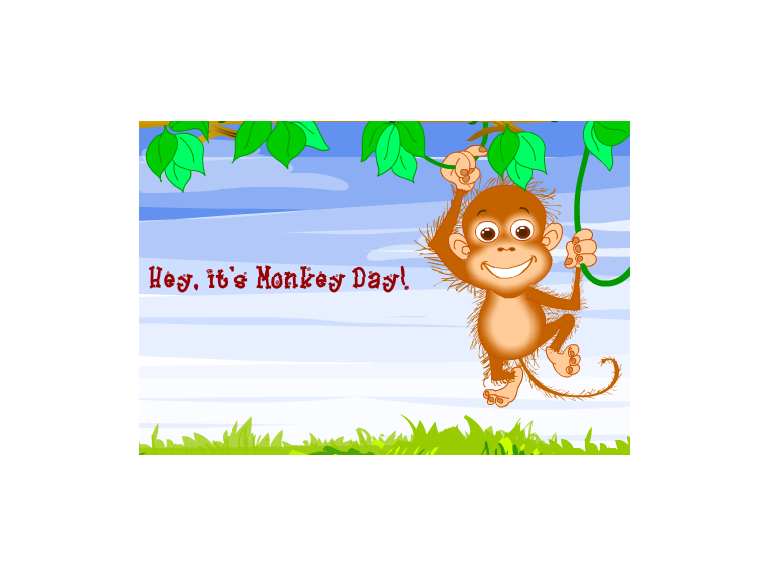 What is Monkey Day?
Monkey Day was created by  artists Casey Sorrow and Eric Millikinand its aim is to spread awareness for the animals, and to show love and care for them. celebrated worldwide it is often known as "World Monkey Day." 
It was started in 2000 when artist Casey Sorrow at the time an art student at Mitchigan State University for a  joke scribbled Monkey Day on a friend's calendar, and then first celebrated the holiday with other MSU art students.  It became more popular when other art students also included Monkey Day in their artwork and Fetus-x comic strips. 
Monkey Day is now celebrated internationally, across countries such as the United States, Canada, Germany, Pakistan, Estonia, Colombia and the United Kingdom.
How is it celebrated?
Many zoos hold annual Monkey Day events. the Lahore Zoo in Pakistan holds an annual World Monkey Day celebration that includes art competitions and educational events about monkeys, including over a hundred children wearing monkey masks. The Tallinn in Estonia celebrates Monkey Day by auctioning artwork created by chimpanzees.
In 2005, Peter Jackson's King Kong was released on the fifth anniversary of Monkey Day.
The day is generally acceptable to be a day for monkeying around and  playing jokes on your family and friends! Or you could just have a banana feast whilst dressed up as monkeys!
On a more serious note it is about raising awareness about the theory of evolution, medical research and human rights.
What is a tarsier?
We all know what a chimpanze, an ape and a lemur is but a tarsier? Well it is a small species of primate that is found inhabiting the well-vegetated forests on a number of islands in south-east Asia. A picture of a tarsier is the one on the right below this blog. Cute!