May is National Physical Fitness & Sports Month
We all  know that physical activity is good for you. Regular physical activity may help prevent or delay many health problems. Being active may help you look and feel better, both now and in the future. So what's stopping you?
Maybe you think that working out is boring, joining a gym is costly, or fitting one more thing into your busy day is impossible. But it's time to make fitness a priority.
May is National Physical Fitness & Sports Month
But don't wait start today!
There are many ways to keep active that are FREE, but it is essential you pick an activity that you enjoy. 
You can:
Remember, engaging your whole family is not only a great way to get everyone involved in physical fitness, but it's also a great way to connect and bond with them too.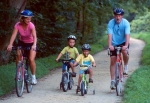 Physical fitness and exercise is for everyone! 
If you are overweight or obese, getting active can help you lower your risk of:
Type 2 diabetes
High blood pressure
Heart disease
Stroke
Some types of cancer
*You should always consult with your physician before starting any exercise program
If you have a health condition like type 2 diabetes or high blood pressure, physical activity can help you manage it. Ask your doctor what types of activity are best for you.
Exercise not only improves physical fitness, but it also improves your overall health and well-being, Exercise aids in weight loss and maintaining weight, combats health conditions and diseases, improves mood (who doesn't want to feel happier and more relaxed?), boosts energy, promotes better sleep, you can achieve all these benefits with just 30 minutes of exercise per day, or 60 minutes per day for children and adolescents. 
It is important to encourage young people to participate in physical activities that are appropriate for their age, that are enjoyable, and that offer variety.
If you haven't been active before, start out slowly and add new physical activities little by little. After a few weeks or months, do them longer and more often. If you aren't sure where to start, check out these examples of physical activity plans
SOME exercise is better than No exercise!
2.5 hrs of moderate exercise per week = 3.4yrs longer life!

With many fantastic venues to choose from located in Solihull and the surrounding area, as recommended on the bestof, why not visit each one, and see what they have to offer and find the activity that suits you?
Crowne Plaza  - Fitness & Wellness Facilities
Make A Splash  & Water Hugs  Swim Schools
Solihull Ice Rink - Silver Blades
Solihull Parks  - there are over 1,500 acres of parks and open spaces in Solihull
Knowle & Dorridge Cricket Club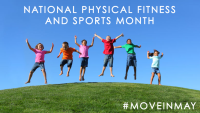 So Ready, Set Move in May!