Entries are flooding in for this year's Knowle Fun Run on Sunday 15th May. Hundreds of runners have already entered on line to run in Solihull's biggest fundraising event of its kind.
Why not join them for this popular 5 mile Fun Run with great community atmosphere on traffic-free streets and help raise funds for Lily Mae Foundation, Children's Liver Disease Foundation, Solihull Bereavement Counselling Service and local causes.
As well as the numerous individual classes there are 4 team events for Adults, Secondary & Juniors, so all you need is 3 relatives, or friends from work, school, the club or even the pub to join you and you could win a team trophy.
You need 4 runners to enter in either the Adult, Secondary or Junior categories and all 4 must finish, so whether it is a team from work (perhaps your company would like publicity and give you t-shirts to wear or match fund the sponsorship you raise?), from school, a group of friends or relatives, from the club or even pub. All you need is 3 friends to commit and to agree on a title for your team, and enter on line now.
We already have 2 adult teams signed up:
Pershore Panthers
The Naughties
We have promises of teams from several of our sponsors including David Lloyd who are recruiting both club members and staff. Don't hold back.
Watch out for splashes of red and blue as you run around the course this year. Taylor Wimpey are sponsoring the course and will be displaying their logo around the course
We are delighted to have T-W back on board. Taylor Woodrow sponsored the Knowle Fun Run for many years in the 00's under the brand name of Bryant Homes when their Midlands HQ was in Princes Way, Solihull. They generously donated numbers, medals, water bottles and other prizes for runners as well as signing the route over a number of years. Then they moved to Warwick and became Taylor Wimpey and good things came to an end.
Roger Northam, Managing Director of Taylor Wimpey Midlands, says: "As a resident of Knowle and a keen participant in the fun run for several years, I'm delighted to confirm that Taylor Wimpey will be sponsoring this fantastic community event in 2016. It's great to be able to support the run again in a slightly different way!"
Eric Lyons, our local family butcher, has agreed to sponsor the BBQ.  It's good to have them on board" says Richard Buckley this years Fun Run leader.
Dave Lyons said that, "We are delighted to have the opportunity to sponsor and cook the Hot Dogs at this Knowle Fun Run and delighted to confirm the tradition that every pound collected will go to the Lions nominated charities.  We shall have plenty of our special Fun Run sausages ready to cook – we hope we can keep up with the demand from runners and supporters during and after the Fun Run. See you there."
We are delighted to confirm David Lloyd Cranmore Club have stepped in to provide this year's Warm Up. We look forward to their guys and gals providing a thorough Warm up at 11:50 on Fun Run day.
This year we are going all safety-conscious with adult t-shirts in Orange with Blue lettering. Remember to order your size when you enter. As usual we shall be giving away up to 300 t-shirts to all MINI-runners who register online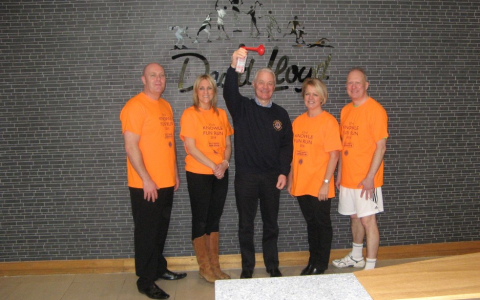 There are also 4 MiniRuns for children in Years 1-4, Year 4's also being able to enter the 1 & 2 lap Junior Fun Run.
To find out more contact the KFR at Arden Academy, Station Road, Knowle, Solihull. B93 0PT. telephone number 0845 8335894 and mention the bestof solihull.
You can enter online now at  knowlefunrun.org.uk .