Celebrating Halloween in Solihull 2016
Did you know?
Our ancestors celebrated New Year on November 1st. 
They celebrated their New Year's Eve on October 31st. 
So how did Halloween come about then? 
Lets look at the facts first
In the year 835 AD the Roman Catholic Church made 1st November a church holiday to honour all the saints. This day became known as All Saints Day. Although it was a joyous holiday it was also the eve of All Souls Day, so in Medieval times it became customary to pray for the dead on this date.
Another name for All Saints Day is 'All Hallows' (hallow is an archaic English word for 'saint'). The festival began on All Hallows Eve, the last night of October.
Halloween comes from All Hallow Even, the eve (night before) All Hallows day. Therefore, Halloween is the eve, (31st October) of All Saints Day (1st November) 
Traditions of Halloween
The tradition of dressing up in costumes for Halloween is practised as it is believed ghosts come back to the earthly world and people thought they would encounter ghosts if they left their homes, so by wearing masks and dressing up they would not be recognised when they left their homes after dark and the ghosts would mistake them for fellow spirits and leave them alone.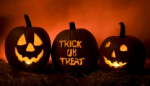 Pumpkin lanterns or Jack-O-Lanterns are hollowed out pumpkins with faces on one side. People once carved out beets, turnips and potatoes as lanterns but nowadays we use pumpkins.
In the old days people thought if they lit fires it would scare away evil spirits, believing that light had power over darkness. In some places jumping over the fire was thought to bring good luck. 
Today we light candles in our pumpkins and then put them outside our homes to try to frighten away witches and ghosts.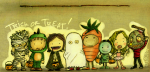 Trick or treat. Halloween was a time for making mischief, known as Mischief Night, when children knock on doors demanding a treat (Trick or Treat) and dress up as witches or ghosts, they  try to obtain money or food from the nervous householders.
Halloween in Solihull 2016
Hogarths

 Hotel are hosting Haunted Halloween Market & Fireworks Display on Friday 28th October 4pm - 9pm. Check out the details  here.
There are spooktacular goings on at Elmdon Park, with a Wicked Workshop & Terror Trail.
Brueton Park have Halloween Horrors, Monster Mini Beasts & Haunting Halloween. 
Join in the Halloween Family Disco at Layca Community Centre
Touchwood have a Spooktacular Celebration for all young witches and wizards.
To view all of these events click here.

Are you organising a Halloween Event?
Here at the bestof solihull we reach thousands of local people so put your events on for free and spread the word about your Spooky Halloween Parties or gatherings. Lots of events are held at this time of the year tell us about yours and be there first! 
If you are having a  Halloween celebration let us know. All you need to do is input the details into the website, include the date, time, price and if anything is happening (activities, food or drinks).
Click here to enter your event details.
keep checking this blog as it grows with more events!