Have your say In Shaping Solihull's Town Centre
24th August 2016
... Comments
---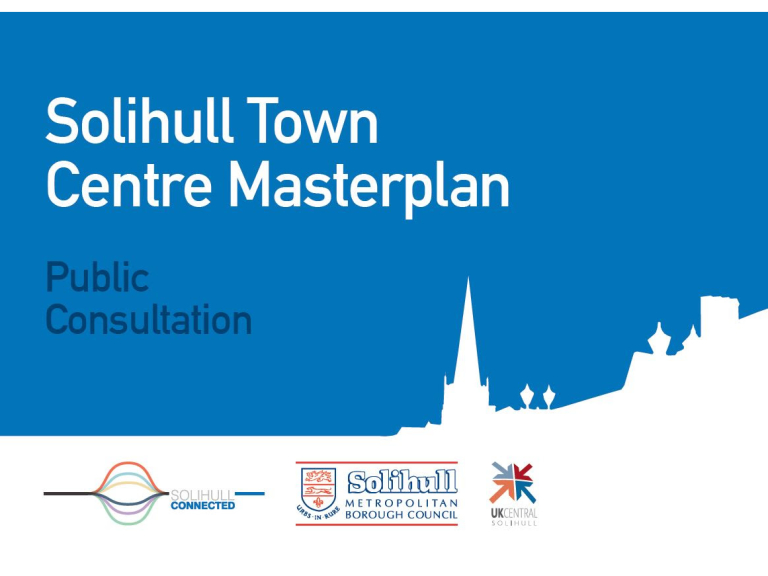 Solihull Council has launched an ambitious project to ensure the vitality of Solihull town centre, for the next twenty years. 

The Solihull Town Centre Masterplan will provide a blueprint for future investment and development in the town centre up to the year 2036 – A vision to maintain and enhance its distinctive character and ensure that it remains an attractive place to live, work, and invest in. 

A draft Masterplan has been prepared following a spatial audit and market analysis of the town centre. To guide and inform the Masterplan, a public consultation will seek the views of local businesses and employers, as well as the people who visit, work, shop and live there.
The consultation is seeking views on:
Whether the right opportunities and constraints have been identified in the seven geographic areas in the town centre, and on the proposals put forward for potential change.
Ensuring we respond to demand for more office space, in the right location for business investment
How to diversify the uses of the town centre and make it an attractive location for staff, encouraging activity in the town centre in the evening and new residential accommodation
Whether there would be benefits to attracting more independent businesses (both office and retail) into the town centre
How we can support local employers and their staff through improvements to the transport network into and around the town centre
Considering the growth on passenger numbers forecast for Solihull Train Station and potential options for upgrading or relocating the station   
The closing date for responses to the consultation is Friday 9 September 2016. A link to the online questionnaire can be found at www.solihull.gov.uk/masterplan. 

Two consultation events will be held in Solihull town centre for members of the public to learn more about the Masterplan and ask any questions they may have:
Thursday 25 August from 2pm to 8pm – The Core Studio, Theatre Square 
Saturday 3 September from 10am to 4pm – Touchwood Shopping Centre (outside Next) 

For more information about the Solihull Town Centre Masterplan, visit  www.solihull.gov.uk/masterplan 
or email masterplan@solihull.gov.uk.
For enquiries please get in touch in the following ways:

Phone: 0121 704 6151 
Email: business@solihull.gov.uk

Solihull MBC, PO Box 18, Council House, Solihull, West Midlands,
B91 9QS

www.solihullforsuccess.com