Free Fitting Service at Sipsey Lingerie Solihull
18th March 2016
... Comments
--- Did you know that 7 out of 10 women wear the wrong size bra?!
Wearing good quality lingerie is important, but wearing the right size is even more crucial. 
Sipsey Lingerie in Solihull have a free fitting service available in store! Walk in Monday-Saturday anytime, no booking required! 
More than 70% of women are in the wrong sized bra. The common mistakes we see are wearing a band size too big or a cup size too small.
Wearing the right size bra can help reduce neck and back pain. The support the bra will provide will ease the tension from your shoulders and neck.
The right size bra will also improve your posture.
A good fitting bra can enhance your waist, back and feminine silhouette.
Bra Fitting
You should get fitted at least every 6 months. Your body changes constantly, so you need to monitor your size 

regularly

. 
If you're pregnant or going through any hormonal changes, you should visit your bra fitter more often - every 2 to 3 months, or whenever you start feeling discomfort.
Don't try to measure yourself, once you lift your arms your ribcage expands, thus making your measurements incorrect.
Visit an experienced bra fitter who will be able to help you find your size and best suited style.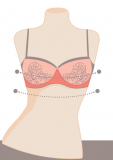 Let us transform the way you look and feel. The most important factor of choosing a bra is how it performs when worn, it should be supportive  and flattering. Being correctly fitted for a bra can not only transform the way that you look it can also change the way you feel.
Discover what wearing the right bra can do for you.
Smooth lines and sensual curves- No more sagging, bulges or painful pinching, your breasts are lifted and delicately supported.

A New found confidence- Enhansing your silhouette, allowing your clothes to fit you better and in some cases even making you to drop a dress size! 
Visit Sipsey Lingerie at 
39 Drury Lane, Solihull, West Midlands B91 3BH
Tel 0121 704 3314