Experience the taste of finest Indian Cuisine at Solihull Top Indian Restaurant
Do you enjoy fine Indian dining?
Located in the former private mansion on the High Street is Panchuli - Solihull's premiere fine indian dining restaurant, recommended, trusted Indian Restaurant with great reviews on the Best Of Solihull. 
The restaurant sits next door to the historic Mason's Arms at the end of Solihull High Street, and is within walking distance of Solihull's shopping centre, St John's Hotel, the new Premier Inn, Holiday Inn and Ramada Hotel.
165 Hight Street, Solihull, West Midlands, B91 3ST

Chef Maz Rahman leads his dynamic team in providing elegant and unsurpassed modern Indian cuisine, ensuring the highest standards, luxurious surroundings and an ambitious menu.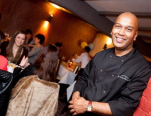 Maz Rahman in the Restaurant was Winner of Solihull Bid Best Independent Business Award 2015
The Chef's Table Experience
Booking your party at the Chef's Table means that you'll be in your own private room, closer to the kitchen, allowing our team more time to talk you through your dishes and make your evening a unique dining experience.
Please note: the Chef's Table is only available to parties of 8, 9 or 10 diners due to the size of our private room.
Loyalty Cards and Gift Vouchers
For just £20, you will receive £20 off the first meal, and 15% off your food bill for a year. Just fill out the form to register your details or purchase at the restaurant.
You can also purchase a Panchuli gift voucher for a friend or loved one, click on the form above.  They will do the rest.
Check it out for yourself, with great reviews,mouth watering offers, attentive staff and the ambitious and extensive menu at  Panchuli,carefully chosen to suit all tastes, it is a dining experience you will want to repeat time and time again.
Book you table at Panchuli and enjoy Indian fine dining at its best.