Believe it or not there is more to the Easter Story than chocolate eggs! 
The Easter festival, the oldest and most important festival in the Christian calendar, culminates in the celebration that is Easter Sunday, which today is a time when most of us get together with our families, share a meal and, of course, eat lots of chocolate! 
Most people know that it was on this day that Jesus was said to come to life after being crucified, visiting his friends and followers once more. 
And as eggs are associated with new life early Christians used them as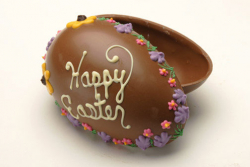 a visual symbol of the resurrection of Jesus. 
It does of course mean another school holiday! So how are you going to keep your little, and not so little ones amused?
We have put together events and activities in Solihull over the Easter period, if you don't see your event in our list, let us know at solihull@thebestof.co.uk and we can add it on. 
Just click on a link to find out more..
Why not start Easter with a great family show at The Core Theatre on Thursday 13th April, two performances to choose from at 2pm and 4pm. 
Good Friday Fireworks Spectacular
Hogarths Hotel have teamed up with Solihull Fireworks to bring you a fantastic day of fun on the 14th of April 2017 in aid of Help Harry Help Others Charity.
Easter Egg Hunt in Elmdon Park  
Friday 14th from 11am - 3pm £2 entry
Anyone for Golf?
How about a game of Adventure Golf at  Four Ashes Golf Centre a treat for all the family. They are open 7 days a week.  
Take part in the Driving Range Washing Machine Challenge and children receive a FREE chocolate surprise when the family play Adventure Golf on Easter Weekend. See details here.
Sports Camp
There are places available for Junior Tennis and the Multi Sports Camp At West Warwickshire Sports Club Click here  and watch the videos.
Other place to visit are..
Solihull Ice Rink , Cinemas ,  National Motorcycle Museum
Umberslade Adventure  Tanworth In Arden Solihull reopens 4th April 2017.
Umberslade Park Farm Tanworth In Arden now open for family fun.
Packwood House Cadbury Easter Egg Hunts 2017. Friday 14th - Monday 17th April. Admission with pre booked tickets only.
The following Easter Half Term activities are all on at The Parkridge Centre, Brueton Park. Booking is recommended.
Cunning Foxes & Runaway Rabbits
Eating out this Easter
Please note that booking is essential to avoid disappointment.

Easter Egg Hunt & Sunday Lunch at Hogarths
Celebrate at Hogarths with an Easter Egg hunt in the grounds for the children at 2pm with lots of surprising hiding places, and then enjoy a fabulous 3 course Sunday Lunch. 
Easter Egg Hunt & Sunday Lunch at West Warwickshire Sports Centre
Make Easter extra special this year with an Easter Egg Hunt for the Kids and Sunday Lunch, at West Warwickshire Sports Club. 
Easter Sunday Lunch at Crowne Plaza Solihull  
Treat the whole Family to a delicious Lunch this Easter. All children receive an Easter Egg
Easter Sunday Lunch at The Punchbowl Lapworth.
Recommended Indian Restaurants
Spring at the Garden Centre
Explore Earlswood Garden and Landscape Centre this Easter, they are full of the joys of spring, see the latest garden gadgets, gifts, house plants (they make a change from chocolate for Mum!), they have jewellery and pet products, and of course a vast range of shrubs, plants and trees to make the garden beautiful.
They are the one stop garden shop. They have a great cafe and coffee shop so it all makes for a great day out.