Car boot sales have sprung up all over the country in the last couple of decades, and are defintely here to stay.
It is believed the idea was adopted from Canada in the early 1970's by Father Harry Clarke from Stockport. 
Most sellers that do boot sales are often just members of the public, and most of us, including myself, have had the experience. I hope it was a good one for you, and worth getting up for  in the early hours of a Sunday or Saturday morning!
Here are a few tips for car boot sellers or 'booters'...
Arrive early to give yourself plenty of time to set up and get organised.
Take plenty of change as many buyers will use larger denomination notes.
Use pricing labels, it will help you remember the right prices, particularly if you have a number of items to sell.
Be prepared to be Haggled!
Be security conscious - You will be dealing in cash, keep it safe and watch out for people "taking" items.
In the Solihull and surrounding areas there are a number of car boots and markets, I have listed a few below that I have come across, just click on the link to find out more about them.
If you are aware of a location I have not mentioned be kind enough to let us know and drop us an email at: solihull@thebestof.co.uk and then everyone can have the chance to come and pick up a bargain!
You can also add your car boot sales/market event yourself, whether they are a regular occurrence or a one off, free of charge to the bestof site listings by clicking here. 
Hockely Heath Car Boot and Market at Box Trees Farm, Stratford Road  www.hockleyheathcarboot.com/
Branson Cross Car boot, Tanworth In Arden  www.bransoncrosscarboot.co.uk/ in bad weather Branson Cross is closed but the boot is at Arrow Auctions in Redditch instead. 
Studley Car Boot www.studleycarbootsale.co.uk/ / situated just on the outskirts of Solihull this is large boot/market very popular and very well attended throughout the season. 
Bosworth Old Primary  Car Park Car boot  www.boswortholdprimary.co.uk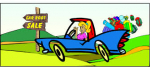 I strongly recommend that you contact the car boot sale to make sure it is running before making a special journey. We are unable to accept responsibility for missing or inaccurate information and/or any losses leading there from.
If any of the information listed is inaccurate please let us know at solihull@thebestof.co.uk and I will update the details. 
Thank You & Happy booting!
Ann